Levey, Kathryn (2006) Dye House Lane, Lancaster, Lancashire. Archaeological Desk-Based Assessment and Watching Brief. [Client Report] (Unpublished)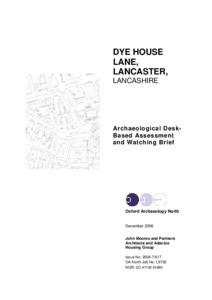 Preview
PDF




complete report.pdf


Download (50MB) | Preview
Abstract
As part of a planning submission for a residential development at Dye House Lane, Lancaster, Lancashire (NGR SD 47740 61890), Oxford Archaeology North (OA North) was commissioned by John Moores and Partners Architects, on behalf of Adactus Housing Group, to undertake an archaeological desk-based assessment of the area and to conduct a watching brief during geotechnical test-pitting of the site. The assessment, undertaken in July 2006, covered a radius of 0.25km around the proposed development site and included visits to the Lancashire Sites and Monuments Record, the Lancashire County Record Office, and consultation of OA North's library. The watching brief, undertaken on 13th July 2006, monitored the mechanical excavation of a single test pit within the central part of the site.
The development site lies towards the centre of Lancaster, just south of the river Lune. Fieldwork at nearby Damside Street has indicated the presence of possible nearby Roman riverside settlement, relating to the fact that the contemporary course of the Lune in this area ran slightly to the south and west of its present course. The gradual movement of the river channel left much of the area very marshy, forming the Green Ayre. This area, including the site of Dye House Lane, is not thought to have been developed until the eighteenth century, when it was consolidated with large amounts of refuse and other redeposited material. Today, the proposed development
site lies to the rear of plots on Chapel Street and is currently used as a car park.
Actions (login required)