Lee, Tony and Wild, Chris (2006) Two lions Public House, Great Dockray, Penrith, Cumbria. Archaeological Desk-Based Assessment and Building Investigation. Project Report. Oxford Archaeology North. (Unpublished)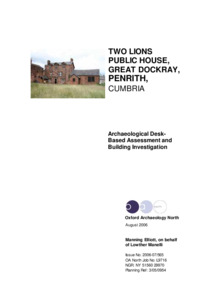 Preview
PDF




Two_Lions_II_Report.pdf


Download (38MB) | Preview
Abstract
Manning Elliott, acting on behalf of their client Lowther Manelli, commissioned Oxford Archaeology North (OA North) to undertake a programme of archaeological assessment of the Two Lions Public House, Great Dockray, Penrith, Cumbria (centred NGR NY 5156 2998). The building is positioned within the Conservation Area for Penrith, and is a Grade II* listed building (LB SMR 25303, HER 4994). A planning
application (planning reference 3/05/0956) was submitted for internal and external alterations to the building, and demolition of a nineteenth century extension to the
rear. These proposals are part of a wider redevelopment scheme on land adjacent to Southend Road (planning reference 3/05/0954). The main development proposals include a superstore with associated car parking as the central feature, together with housing and retail units. This wider scheme was subject to an overall desk-based assessment (OA North 2005a), together with a basic assessment of the Two Lions Inn (OA North 2005b). In order to inform the planning decision and provision of listed building consent further information is required. Consequently, English Heritage has
requested that a desk-based assessment and Level 3 buildings assessment is undertaken. This work was carried out in June and July 2006.
Actions (login required)