Rees, Gareth (2018) Ramsey Abbey College. [Client Report] (Unpublished)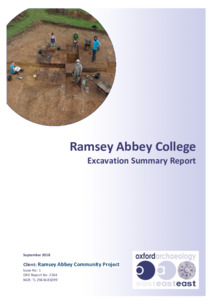 Preview
PDF




report 2244_LR.pdf


Available under License Creative Commons Attribution Share Alike.
Download (8MB) | Preview
Abstract
The Ramsey Abbey Community Project and Oxford Archaeology East conducted the first of two planned seasons of community excavation in the grounds of the Abbey College, Ramsey, Cambridgeshire (TL 29436 85099), between the 10th and 24th of August 2018.
Three excavation areas were opened. Areas A1 and A2, measuring 22m x 7.5m and 10.5m x 8m respectively, were targeted over anomalies identified during a geophysical survey thought to represent a drainage ditch and an associated landscaped feature. Area C, measuring 13.3m x 14m, was targeted over a feature seen in geophysics and in earthworks on an existing rugby pitch. This geophysical anomaly was thought to be a structure of some kind.
Excavations in Trench A1 and A2 uncovered a series of intercutting ditches dating from the medieval through to the post-medieval period when they appear to have been filled in. A trackway and various ground levelling features were also found located on the eastern side of the ditch.
A brick clamp kiln, dating the 16th or 17th century was uncovered in the Area C. This kiln contained residues of unfired bricks, brick wasters, and ash.
Item Type:
Client Report
Additional Information:
3D models of all of the trenches are available on the Oxford Archaeology sketchfab website: Area A1 and A2: https://skfb.ly/6BsrJ Area C: https://skfb.ly/6Bs88
Uncontrolled Keywords:
Archaeological Excavation, archaeological excavation, excavation, Ramsey, ramsey, Cambridgeshire, cambridgeshire, Ramsey Abbey, ramsey abbey, SAM, sam, Scheduled Ancient Monument, scheduled ancient monument, Scheduled Monument, scheduled monument, Ramsey Abbey Community Project, Ramsey Abbey community project, ramsey abbey community project, clamp kiln, Clamp Kiln, Medieval, medieval, Post-Medieval, post-medieval, Post Medieval, post medieval, Early Medieval, early medieval, pottery, ceramic, sherd, Pottery, Ceramic, Sherd, medieval pottery, post-medieval pottery, early medieval pottery, Grimstead ware, grimstead ware, Bourne Ware, bourne ware, Bourne ware, animal remains, animal bone, bone, shell, oyster shell, tile, Tile, Brick, brick, CBM, cbm, Ceramic Building Material, ceramic building material, Roof Tile, roof tile, floor tile, Floor Tile, track way, trackway, ditch, post hole, posthole, glass, window came, nail, horseshoe, geophysics, Geophysics, geophysical survey, Geophysical Surevy, earthwork, Earthwork, earthworks, Earthworks, volunteer, volunteers, Volunteer, Volunteers, Community group, community group, Community Group, 2244, report 2244, Report 2244, OAE report 2244
Subjects:
Geographical Areas > English Counties > Cambridgeshire
Period > UK Periods > Early Medieval 410 - 1066 AD
Period > UK Periods > Medieval 1066 - 1540 AD
Period > UK Periods > Post Medieval 1540 - 1901 AD
Divisions:
Oxford Archaeology East
Depositing User:

Hamilton

Date Deposited:
07 Jan 2019 11:03
Last Modified:
07 Jan 2019 11:03
URI:
http://eprints.oxfordarchaeology.com/id/eprint/4576
Actions (login required)