Lord, Adele (2019) Land East of Hargham Road, Attleborough, Norfolk. [Client Report] (Unpublished)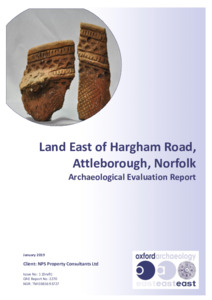 Preview
PDF




Evaluation_Report_2270_OAE_OASIS_TP edit.pdf


Available under License Creative Commons Attribution Share Alike.
Download (44MB) | Preview
Abstract
Between 24th of October and 30th November Oxford Archaeology East (OA East) conducted an evaluation at land to the east of Hargham Road, Attleborough (centred on TM 03856 93727). The evaluation consisted of 47 trenches, distributed across the proposed development area of 6.7 hectares.
There was evidence in the north-east of the site for activity dating from the Late Neolithic through to the Early Bronze Age, focussed particularly in Trench 32. A group of seven post holes and two small pits represented possible evidence for one or more post-built structures. Significantly, three of the post holes and one pit contained Beaker pottery, much of it decorated. The majority of the Beaker pottery came from a single post hole.
There was very limited evidence of Iron Age activity at the site and although Romano-British pottery was more common, the overall assemblage was still relatively small for the period. The dispersed nature of the Roman pottery and the small quantities recovered are indicative of outlying field system, rather than the core of a Roman settlement.
The evaluation confirmed the presence of a series of east-south-east to west-north-west orientated ditches dating to the post-medieval period, although certain boundaries may have had medieval antecedents. In total, six of these ditched boundaries are visible on the 1840 Tithe map for Attleborough.
Item Type:
Client Report
Uncontrolled Keywords:
Archaeological Evaluation, archaeological evaluation, evaluation, Norfolk, norfolk, Attleborough, attlesborough, Neolithic, neolithic, Late Neolithic, late neolithic, Bronze Age, bronze age, Early Bronze Age, early bronze age, Bronze age, pit, pits, post hole, post holes, posthole, postholes, post-built structure, post-built structures, Beaker, beaker, pottery, ceramic, sherd, Beaker ware, beaker ware, Roman, roman, field system, ditch, ditches, Post-Medieval, post-medieval, Post Medieval, post medieval, Tithe map, 2270, report 2270, Report 2270, OAE report 2270
Subjects:
Geographical Areas > English Counties > Norfolk
Period > UK Periods > Bronze Age 2500 - 700 BC > Early Bronze Age 2500 - 1500 BC
Period > UK Periods > Iron Age 800 BC - 43 AD > Late Iron Age 100 BC - 43 AD
Period > UK Periods > Neolithic 4000 - 2200 BC > Late Neolithic 2700 - 2200 BC
Period > UK Periods > Medieval 1066 - 1540 AD
Period > UK Periods > Post Medieval 1540 - 1901 AD
Period > UK Periods > Roman 43 - 410 AD
Divisions:
Oxford Archaeology East
Depositing User:

Hamilton

Date Deposited:
08 Jan 2019 10:59
Last Modified:
26 Mar 2019 10:23
URI:
http://eprints.oxfordarchaeology.com/id/eprint/4579
Actions (login required)