OAU, OAU and Davenport, Peter Gainsborough Building Bath. [Client Report] (Unpublished)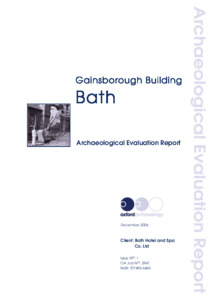 Preview
PDF




BAGABEV_complete.pdf


Download (1MB) | Preview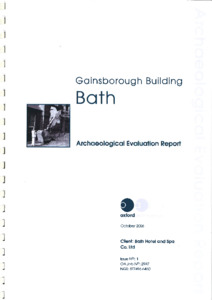 Preview
PDF




BAGAB05_Eval.pdf


Download (3MB) | Preview
Abstract
During June ahd July 2006 Oxford Archaeology (OA) carried out a field evaluation at the Gainsborough Building, Beau Street, Bath NGR (5774966460)on behalf of Barh Hotel and Spa Co. Ltd. The work consisted of nine trenches, measuring between 0.8 n x L0 m and 1.25 m x 2.7 nt. These were dug in the basement of a multi-period building, whose three main elements were erected in 1825, 1864 and the 1890s, It was originally built as the United Hospital for Bath (later Royal United Hospital - RUH), but in 1928 was sold and in 1932 opened as the Bath Technical College. It remained in academic use unlil 2005 when it was sold to the present owners for conversion to an hotel. The work in lhe
1860s had revealed significant and extensive Roman and possibly medieval layers under the western and southern part of the site, well recorded by James lrvine, a resident antiquary. Correspondence at the time suggested that the remains had been substantially preserved under
the then new construction. The evaluation revealed these remains in some trenches, but in others, antiquarian excavation combined with foundation trenching had removed archaeological stratificaÍion. Trenches on the
southern side of the site revealed that stratified archaeological deposits exist just below the basement floor level of lhe 1890s work and are of medieval origin. Under the 1825 block, along Beau Street, excavation to a
depth of 1.33 m below the basement floor failed to find archaeological deposilts at one poinl, and at another, they occurred at around 1.0 m below. In the Balh context, the remains are significant and important.
Development proposals are being progressed with mitigation in situ as the appropriate response. Some limited mitigation excavation may be required, but designs are being developed to keep lhis to the absolute minimum necessary for the proposal.
In November 2006 Oxford Archaeology (OA) carried out an additional investigation to
the field evaluation carried out in June at the Gainsborough Building, Beau Street, Bath
(NGR ST74966460) on behalf of Bath Hotel and Spa Ltd. The work consisted of four
trenches. One was an extension of one of those dug in June and the other three were new.
The trenches were intended to provide information to confirm that the archaeological
impact of foundation and pool design of the proposed development of the Gainsborough
Building be mitigated successfully by the design proposals contained in the evaluation
report. Two trenches were dug to investigate the depth of the footings of the southern
range fronting Lower Borough Walls, and two were opened to confirm the presence and
depth of archaeological deposits in areas that be affected by the construction of the
intended pools. It was found that the depths and character of the deposits in the original
evaluation trenches could be considered typical. The results of the southern two trenches
were less clear. Investigations along the southern wall were confused by the presence of
probably 18th century footings and more Roman remains, preventing fuller
interpretation. The northern foundations were over 2.6 metres deep, but archaeological
deposits continued to at least the same depth. Nonetheless, by comparing the known and
extrapolated depths of the pre-Roman ground surface in the vicinity, a strong case can be
that the footings of the existing buildings do continue into the natural strata and that the
base of the archaeological deposits are not likely to be more than about 0.30 metres
below the base of the deepest trench
Actions (login required)