Kwiatkowska, Malgorzata (2019) Grandcourt Quarry, East Winch, Norfolk. [Client Report] (Unpublished)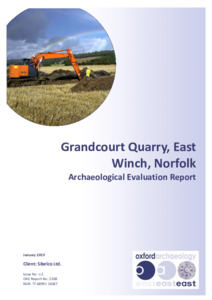 Preview
PDF




2268 report v1_PS_NCC_LR.pdf


Available under License Creative Commons Attribution Share Alike.
Download (5MB) | Preview
Abstract
Between the 12th of November and the 23rd of November 2018, Oxford Archaeology East (OA East) conducted an archaeological investigation at land off A47, east of the Grandcourt Quarry, East Winch, Norfolk (centred TF 68991 16587) ahead of an application for mineral extraction at the site. The area was initially evaluated by NPS Archaeology (Ames 2014); however, two additional areas required further work. Eighteen trenches were excavated, each 40m in length. Fourteen of these trenches revealed dispersed linear and discrete archaeological features.
The evaluation revealed two main zones of activity. One was located in the north-western part of the site and comprised a scatter of ditches, gullies, pits and possible post holes tentatively assigned to the Late Iron Age/ Early Roman period, based on the recovery of a small number of pottery sherds. The ditches had varying alignments and contained homogenous fills. Trenches 102 and 104 exposed an enclosure ditch identified by the geophysical survey. Trench 103 revealed a possible ring ditch associated with another curvilinear anomaly recorded by the survey.
The second major area of activity was located in the south-east corner of the site. It also comprised of a number of ditches, gullies and pits. A concentration of pits was recognised in Trench 114. The ditches had varying alignments but contained similar fills. Two principal axes have been identified suggesting the existence of a pattern of rectilinear field divisions. Finds and environmental data are suggestive of at least two phases of occupation at the site. Very few finds were recovered from this area. The ceramic assemblage was Early Roman, and originated from features in Trenches 113, 114 and 116. The Early Roman pottery recovered from ditch 40, Trench 114 could be residual, as grains of rye, characteristic of the Anglo-Saxon period, were found within an associated environmental sample. In addition, a Danelaw imitation of an Alfred (the Great) silver penny was recovered from ditch 66, Trench 116.
Item Type:
Client Report
Uncontrolled Keywords:
Norfolk, norfolk, East Winch east winch, evaluation, Evaluation, archaeological evaluation, late iron age, Late Iron Age, Early Roman, early roman, Roman, roman, Iron Age, iron age, pottery, Pottery, sherd, ceramic, roman pottery, Roman Pottery, Roman pottery, Iron Age Pottery, Iron Age pottery, iron age pottery, Anglo-Saxon, Early Medieval, early medieval, anglo-saxon, coin, penny, silver, silver penny, Danelaw, Alfred the Great, pit, pits, ditch, ditches, rye, grain, sample, environmental sample, gully, gullies, 2268, report 2268, Report 2268, OAE report 2268
Subjects:
Geographical Areas > English Counties > Norfolk
Period > UK Periods > Early Medieval 410 - 1066 AD
Period > UK Periods > Iron Age 800 BC - 43 AD
Period > UK Periods > Iron Age 800 BC - 43 AD > Late Iron Age 100 BC - 43 AD
Period > UK Periods > Roman 43 - 410 AD
Divisions:
Oxford Archaeology East
Depositing User:

Hamilton

Date Deposited:
25 Jan 2019 09:53
Last Modified:
25 Jan 2019 09:53
URI:
http://eprints.oxfordarchaeology.com/id/eprint/4600
Actions (login required)