Murray, Paul Malthouse Bungalow, East Hanney, Oxfordshire. [Client Report] (Unpublished)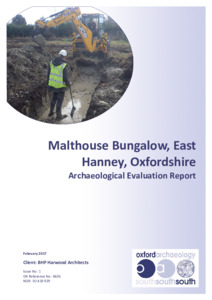 Preview
PDF




EAMB17_Evaluation_Report.pdf


Download (5MB) | Preview
Abstract
Oxford Archaeology (OA) was commissioned by BHP Harwood Architects on
behalf of Mr. and Mrs. P Carter to undertake an archaeological evaluation in
advance of a proposed residential development (Planning Application
P16/V1652/FUL) at land to the rear of Malthouse Bungalow, East Hanney (NGR
SU41849291).
The evaluation was carried out between the 30th January and the 1st February
2017.
Three parallel shallow linear features were identified in Trenches 4 and 5,
aligned east-west. Although undated, their spacing and alignment suggest that
they relate to the system of ridge and furrow illustrated on Rocque's map of
Berkshire of 1761. The gullies themselves are however too narrow and deep to
represent furrows themselves, but were perhaps drainage trenches dug along
the furrows.
There are further similar gullies in Trenches 1 and 3 on different alignments,
however, so they may instead belong to a system of drainage for small
enclosures following the enclosure of the open field at the start of the 19th
century. Another possibility is that the ditch and gullies were dug for drainage
of the land prior to the planting of an orchard in the 19th century, as illustrated
on the Ordnance Survey maps dated 1875 and 1883.
The evaluation also identified a large feature, either a large pit or a substantial
boundary ditch, close to the south-eastern boundary of the development. A
boundary is shown in the appropriate position on the First edition Ordinance
Survey maps dated 1875 and 1883, but is not marked on Rocque's map of
Berkshire, dated 1761, or on the Inclosure map of 1803, suggesting that the
boundary was only established in the 19th century. It had been replaced by the
current boundary by 1913, when the Second Edition Ordinance Survey map was
issued.
A sequence of shallow pits was identified in Trench 4, which were dated to the
18th or 19th century.
A further ditch was identified in Trench 3. Although undated its character was
strongly suggestive of a modern date.
The archaeological remains can be considered to be of low significance.
Actions (login required)