Strutt, Ashley Hadden Hill, Didcot. [Client Report] (Unpublished)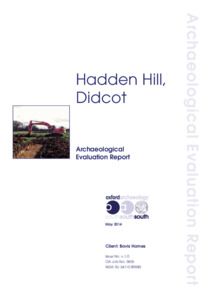 Preview
PDF




DIHA14.pdfa.pdf


Download (3MB) | Preview
Abstract
Between the 3rd and 11th February 2014 Oxford Archaeology (OA) excavated a
series of 18 evaluation trenches on a site proposed for residential development at
Hadden Hill, Didcot, Oxfordshire. Twenty-two trenches were originally proposed in
the Written Scheme of Investigation, but four had to abandoned entirely, and several
others shortened or relocated, due to surface water inundation. The site is c 2.7
hectares in extent and is situated on the eastern edge of Didcot parish, bounded to
the south by the Great Western Railway, and to the north by the A4130 Hadden Hill
(SU 5411 8988). Bovis Homes commissioned the work in response to a design brief
by Richard Oram of Oxfordshire County Council.
The site lies in an area of archaeological potential, in particular for Bronze Age
remains. Evidence for Bronze Age settlement and a series of linear ditches were
excavated in 1991 under the adjacent Wallingford Road Tesco superstore (PRN
15646, Ruben and Ford 1992). A flint knife of Bronze Age type was reportedly found
in 1950 during excavation of a pond within the site (PRN 9633). As part of the
evaluation a trench was cut through the pond spoil heap in the hope of finding
further artefacts. A single worked flint, which is thought most likely to be a crudely
made chopper of Middle or Late Bronze Age date, was recovered from the base of
the spoil heap.
Very few definite archaeological finds and features of any date were found in the
evaluation. The only three cut features identified included a pit in Trench 15, and a
ditch and ditch terminal in Trench 21. The pit contained fired clay fragments and
charred plant remains which may be waste material raked from an oven. As these
features are all undated they could equally be outlying features of the Wallingford
Road Tesco Bronze Age site or agricultural features of more recent date.
Lidar data shows ridge-and-furrow (the traces of medieval and post-medieval 'open
field' cultivation) throughout the evaluation area, which were clearly visible on the
ground as significant earthworks.
The potential for extensive significant discoveries within the site appears to be low.
It is likely that occasional outlying elements of the known Bronze Age site under the
adjacent Tesco superstore could extend into the proposed development site.
However the very limited archaeological remains encountered in the trenches are of
no more than local significance.
Actions (login required)