Webb, Robin (2017) Archaeological Trial Trench Evaluation – LGC Site, Newmarket Road, Fordham. [Client Report] (Submitted)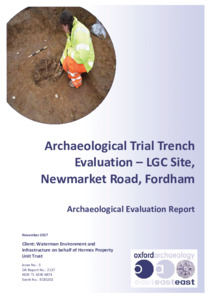 Preview
PDF




Report_2137_LR.pdf


Available under License Creative Commons Attribution Share Alike.
Download (6MB) | Preview
Abstract
In August and September 2017, Oxford Archaeology East undertook an evaluation at land to the east of Newmarket Road, Fordham, Cambridgeshire (centred on TL6330 6874). Thirty-three trenches were opened across five grassed fields, in part targeted on features identified by a geophysical survey.
The northern three fields (1-3) contained limited archaeological remains and were much disturbed by later activity.
Field 4, although largely disturbed and containing little in the way of archaeological activity, did provide one area of archaeological interest. This ran along the southern edge of the field and comprised two Late Bronze Age pits and an early Roman crouched burial within a natural hollow.
Trenches excavated in the south-eastern part of the development area (Field 5) revealed floodplain deposits from which worked flint, dating mostly to the Late Neolithic or Early Bronze Age was recovered. The edge of the peat deposits was marked by a boundary ditch dug into the sand, and gravel deposits that remained dry during its lifetime and contained only animal bone.
The activity identified on the current site appears to have been on a smaller scale and intensity compared to the activity that has been identified both further upstream on the River Snail (Neolithic and Bronze Age), and on the higher ground investigated ahead of the Fordham bypass and Turners Yard (Bronze Age).
The artefacts recovered during the evaluation included articulated human remains from an early Roman crouched burial; two fragments of hand-forged nails; a shard of 19th century glass bottle; 13 fragments of 19th-20th century CBM and 1 of a Roman tegula; 55 worked flints (13 from peat deposits, 14 from the subsoil and 28 from cut features), primarily dating to the Neolithic and Bronze Age; 5 sherds of prehistoric pottery, 1 of Roman pottery and 1 of post-medieval pottery; and 17 fragments of largely cattle and horse bone.
Item Type:
Client Report
Uncontrolled Keywords:
evaluation, Evaluation, archaeological evaluation, Cambridgeshire, cambridgeshire, Fordham, fordham, lithics, lithic, flint, worked flint, pottery, Pottery, sherd, ceramic, CBM, cbm, ceramic building material, Ceramic Building Material, tegula, roman tegula, Roman tegula, Roman, roman, inhumation, burial, HSR, hsr, human skeletal remains, Human Skeletal Remains, bone, bones, human remains, crouched burial, early roman, animal remains, animal bone, animal bones, glass, Neolithic, neolithic, Bronze Age, bronze age, peat, peat deposit, pit, pits, hollow, natural hollow, ditch, ditches, 2137, report 2137, Report 2137, OAE report 2137
Subjects:
Geographical Areas > English Counties > Cambridgeshire
Period > UK Periods > Bronze Age 2500 - 700 BC
Period > UK Periods > Iron Age 800 BC - 43 AD
Period > UK Periods > Neolithic 4000 - 2200 BC
Period > UK Periods > Roman 43 - 410 AD
Divisions:
Oxford Archaeology East
Depositing User:

Hamilton

Date Deposited:
29 Jan 2019 12:01
Last Modified:
29 Jan 2019 12:01
URI:
http://eprints.oxfordarchaeology.com/id/eprint/4615
Actions (login required)