Quartermaine, Jamie (2006) Lyme Park, Cheshire. Detailed Survey of aspects of the Historical Landscape development. Volume 1: Survey Reports. Project Report. Oxford Archaeology North. (Unpublished)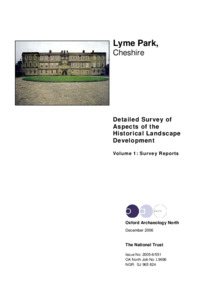 Preview
PDF




Volume 1.pdf


Download (736kB) | Preview
Abstract
In the summer of 1996 Oxford Archaeology North (OA North), formerly Lancaster University Archaeology Unit, undertook a programme of survey at Lyme Park in Cheshire (SJ 965 824) at the request of the National Trust. This survey examined and recorded seven discrete, but inter-linked, elements of the Park landscape and detailed gazetteers were produced for the use of the National Trust. The report was originally submitted in 1997 as a draft, but was then revisited and enhanced in 2006 to produce the present final version.
Boundary Survey: documentary sources and surviving structural evidence, suggest that many of the boundaries have considerable antiquity, and date back at least to 1686, the date of the earliest extant survey of the park. The boundary survey concluded that the dry-stone walls within, and enclosing the Park are, for the most part, of nineteenth century construction, and there is considerable evidence to suggest that before that date most of the boundaries took the form of earthen banks and pale fences rather than walls. A structural analysis of the relationships between individual elements of walling suggested that many of the junctions had been frequently rebuilt, often obscuring their primary relationship. The field evidence provided, in many cases, a chronology of the successive localised repairs and rebuilding rather than the relationships between broader elements of the landscape, such as enclosures and their sub-divisions.
A series of long, broad earthen banks and ditches were identified during the non-intensive survey and were further examined during the boundary survey. These resemble the form of earlier Pale enclosures, as seen at many other enclosed Parks in Britain, and it would be reasonable to suggest that they represent the remnant of the boundaries known to have
enclosed Lyme from the late fourteenth century.
Actions (login required)