Blackbourn, Kathryn (2018) A Prehistoric enclosure and other features at Land off Barkers Lane, March, Cambridgeshire. [Client Report] (Unpublished)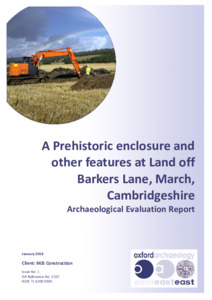 Preview
PDF




Report 2167_LR.pdf


Available under License Creative Commons Attribution Share Alike.
Download (7MB) | Preview
Abstract
From the 23rd of October to the 6th of December 2017 Oxford Archaeology East undertook an archaeological evaluation at land south of Barkers Lane, March, Cambridgeshire (TL 4200 9500). A total of 91 trenches were excavated, the majority of which measured 50m in length but which also included a small number of square trenches located over anomalies identified via geophysical survey.
Ditches were recorded in the majority of the trenches with a number of poorly dated field systems on varying alignments revealed during excavation, most of which had been previously identified by a geophysical survey. Within these extensive field systems three main areas of archaeological interest were identified across the site.
In the south-west corner of the site a large sub-square enclosure, previously recorded from aerial photographs and measuring approximately 70m across, was identified in five of the trenches. The enclosure was formed by a very substantial ditch up to 5m wide and at least 2m deep. Few finds were recovered from the enclosure but a single sherd of Middle Bronze Age pottery from its upper fill suggests it dates to this period. A single Middle Bronze Age well was identified at the northern end of the site (Trench 6), which yielded 75 sherds (1017g) of Middle Bronze Age pottery and is thought to be contemporary with at least one of the field systems identified in this part of the site.
A Middle Iron Age presence was also noted on site. The majority of the pottery dating to this period was recovered from the fills of ditches in the south-west of the site. Pottery of this date only occurred in small quantities and no structures or other features suggestive of settlement activity during this period were recorded. A small quantity of Roman pottery was also recovered from a small number of ditches in the northern part of the site, particularly from ditches with an east to west alignment. One of the field systems may tentatively be dated to the Roman period, although the pottery is fairly abraded and may in many cases represent residual material caught up in later features.
A large number of pits were identified in the north-west corner of the site and contained no dateable finds or charred remains. These pits are thought to represent an area of quarrying and, whilst poorly dated, are thought most likely to be post-medieval.
Item Type:
Client Report
Uncontrolled Keywords:
Evaluation, evaluation, archaeological evaluation, Cambridgeshire, cambridgeshire, March, march, Prehistoric, prehistoric, Bronze Age, bronze age, Middle Bronze Age, middle bronze age, Iron Age, iron age, Middle Iron Age, middle iron age, Roman, roman, pottery, ceramic, sherd, fired clay, loom weight, loomweight, CBM, cbm, Ceramic Building Material, ceramic building material, Glass, glass, Slag, slag, Pottery, bronze age pottery, middle bronze age pottery, Bronze Age pottery, Middle Bronze Age pottery, well, Well, ditch, ditches, pit, pits, field system, agriculture, quarry, quarrying, quarry pit, Post-Medieval, post medieval, Post Medieval, post-medieval, Post-Medieval quarry pit, post medieval quarry pit, Post Medieval quarry pit, post-medieval quarry pit, iron age pottery, middle iron age pottery, Iron Age pottery, Middle Iron Age pottery, flint, flints, worked flint, lithic, lithics, lithic implement, 2167, report 2167, Report 2167, OAE report 2167
Subjects:
Geographical Areas > English Counties > Cambridgeshire
Period > UK Periods > Bronze Age 2500 - 700 BC
Period > UK Periods > Iron Age 800 BC - 43 AD
Period > UK Periods > Bronze Age 2500 - 700 BC > Middle Bronze Age 1600 - 1,000 BC
Period > UK Periods > Iron Age 800 BC - 43 AD > Middle Iron Age 400 - 100 BC
Period > UK Periods > Post Medieval 1540 - 1901 AD
Period > UK Periods > Roman 43 - 410 AD
Divisions:
Oxford Archaeology East
Depositing User:

Hamilton

Date Deposited:
01 Feb 2019 14:30
Last Modified:
01 Feb 2019 14:30
URI:
http://eprints.oxfordarchaeology.com/id/eprint/4633
Actions (login required)