Lambert, Paddy (2018) Late Iron Age Settlement and Roman Fields at Rockmill End, Willingham: PXA and UPD. [Client Report] (Unpublished)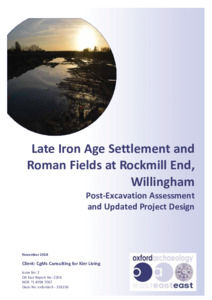 Preview
PDF




Report 2206_LR.pdf


Available under License Creative Commons Attribution Share Alike.
Download (7MB) | Preview
Abstract
Between 11th January and 24th March 2018, Oxford Archaeology East (OA East) conducted an archaeological excavation on land north-east of Rockmill End, Willingham, Cambridgeshire (TL 4094 7067). The site was 0.5ha in size and was excavated in two phases due to poor ground conditions.
A relatively high density of archaeological deposits and features was found, predominantly spanning the Late Iron Age to Early Roman period (c.100 BC – 100 AD). The earliest and main focus of activity was a long-lived, large sinuous boundary ditch that ran east to north-west across the site, with further ditches denoting a field system to the south. This network of ditches appears to date to the Late Iron Age to Early Roman transition period. A roundhouse with a long occupation span was associated with the boundary ditch, along with a number of broadly contemporary pits and postholes.
In the Early Roman period the large ditch was recut and extended to the south-west, reinstating the boundary but related to a shifted focus of activity to the north-east. The third phase of activity was in the latter part of the Early Roman period and was represented by a sub-rectangular enclosure and an adjacent trackway. A ditch extending from the trackway may relate to contemporary land management. After the enclosure went out of use the site appears to have been abandoned, with no evidence for later Roman (post early 2nd century) or early post-Roman activity being identified.
At some point in the medieval or late medieval period, the land was again cultivated and the remains of furrows were found to cut across the site (on an NNW-SSE alignment). These presumably relate to the medieval open fields of Willingham. The final phase of activity was a quarry pit, with two ditches dating to the late post-medieval to early modern periods. These ditches correspond to post-Enclosure field boundaries shown on historic maps of the area.
A relatively small finds assemblage was recovered from the site – reflecting its rural, agricultural character – and largely comprises Late Iron Age to Early Roman pottery that is predominantly utilitarian and local in origin. Other finds include ceramic building material and worked stone, with very few metal finds represented. The small group of animal bone includes a high percentage of cattle and sheep/goat with smaller amounts of horse, pig, dog and bird. Environmental samples showed very poor preservation of plant remains on the site.
Item Type:
Client Report
Uncontrolled Keywords:
Excavation, excavation, archaeological excavation, Archaeological Excavation, Cambridgeshire, cambridgeshire, Willingham, willingham, PXA, pxa, post-excavation assessment, Post-Excavation Assessment, UPD, upd, Updated Project Design, updated project design, PXA and UPD, pxa and upd, Roman, roman, Early Roman, early roman, Iron Age, iron age, Late Iron Age, late iron age, Medieval, medieval, Post-Medieval, post-medieval, Post Medieval, post medieval, pit, pits, ditch, ditches, enclosure, enclosures, agriculture, farming, ridge and furrow, furrow, pond, quarry pit, pottery, ceramic, sherd, Roman pottery, roman pottery, Iron Age pottery, iron age pottery, spindle whorl, spindlewhorl, CBM, cbm, Ceramic Building Material, ceramic building material, fired clay, animal remains, animal bone, bone, boundary, boundary ditch, land management, trackway, 2206, report 2206, Report 2206, OAE report 2206
Subjects:
Geographical Areas > English Counties > Cambridgeshire
Period > UK Periods > Iron Age 800 BC - 43 AD
Period > UK Periods > Iron Age 800 BC - 43 AD > Late Iron Age 100 BC - 43 AD
Period > UK Periods > Medieval 1066 - 1540 AD
Period > UK Periods > Post Medieval 1540 - 1901 AD
Period > UK Periods > Roman 43 - 410 AD
Divisions:
Oxford Archaeology East
Depositing User:

Hamilton

Date Deposited:
06 Feb 2019 08:36
Last Modified:
06 Feb 2019 08:36
URI:
http://eprints.oxfordarchaeology.com/id/eprint/4639
Actions (login required)