Ridings, Christopher (2007) Axwell Hall, Blaydon, Gateshead. Archaeological Landscape Survey and Watching Brief. Project Report. Oxford Archaeology North. (Unpublished)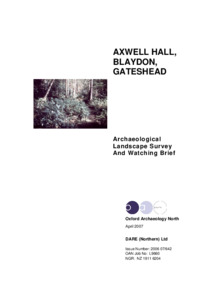 Preview
PDF




Complete Report.pdf


Download (27MB) | Preview
Abstract
Development and Regeneration Excellence (Northern) Ltd (DARE) are presently redeveloping Axwell Hall, a Grade II* listed Palladian mansion (IoE No. 303771), located near Blaydon, Gateshead, Tyne and Wear (NZ 1911 6204) (Fig 1). Following an initial programme of building investigation (OA North 2004), a second phase of work was undertaken, involving an Archaeological Landscape Survey of the walled
gardens, the carriage drive bridge, the ha-ha, the hall terrace, the garden terrace and the tennis courts, as well as a general investigation of the surrounding parkland (Fig
2). In addition, a Watching Brief was maintained during groundworks. Both the Landscape Survey and Watching Brief were completed during a series of visits
between June and October 2006.
It is evident that the development of the parkland is attributable to three broad phases, the mid eighteenth century, the early nineteenth century and the early twentieth, with dramatic changes, in particular, occurring during the latter phase. Certainly, the carriage drive bridge would appear to be contemporary with the building of the Hall (1760), both in terms of its design and style, and therefore, must be regarded as the oldest of the investigated structures in the parkland. However, it is suprising that very little work would appear to have been undertaken in the parkland during the next forty
to fifty years: without Ordnance Survey mapping, or clear physical evidence, there is no way of knowing with any confidence. That said, work may have begun on the walled gardens as early as the late eighteenth century, and was certainly finished by the early nineteenth century. Over the remainder of the nineteenth century, there would appear to be a lull in the development of the parkland. Although a boundary ditch and a boundary fence have clearly been added, these additions are of less significance than those which came during the early twentieth century, including a
tennis courts, a 'ha-ha' and the full landscaping of the Pleasure Grounds.
Actions (login required)