Tonks, David (2006) Carlisle City Centre, Cumbria. Archaeological Watching Brief. Project Report. Oxford Archaeology North. (Unpublished)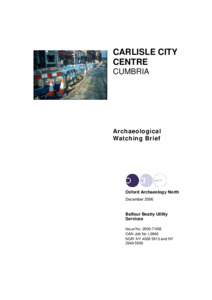 Preview
PDF




complete report reduced.pdf


Download (18MB) | Preview
Abstract
During the months of January to June 2006 Oxford Archaeology North under took a series of archaeological watching briefs within Carlisle City Centre, Cumbria, along various streets between Georgian Way to the east and West Walls to the west (centred on NY 39970 55970). The work was undertaken on behalf of Balfour Beatty Utility Services during the refurbishment of an existing water main throughout central
Carlisle. The aim of the watching brief was to establish the existence and location of any previously unknown surviving archaeological remains exposed during the course of refurbishment works associated with the water supply to Carlisle town centre.
Despite a small but unknown number of trenches being opened and backfilled in the absence of an archaeologist, the excavation of 307 trenches was undertaken in the presence of an archaeologist. These were distributed within 27 roads throughout the city centre. For the majority of the trenches, 303 in total, the excavation was contained
within the modern backfill of the pre-existing water pipe trench. Only the excavation of four of the trenches revealed natural geological deposits sealed by modern material.
Finds were recovered from fourteen of the trenches, including degraded human bone and a copper alloy sewing needle both retrieved from Paternoster Row. However, all
were from unstratified deposits and no archaeologically significant inferences can be drawn from their presence. No significant archaeological horizons were encountered
during the duration of the works.
Actions (login required)