Fenn, Matt Land off Lince Lane Kirtlington Oxfordshire. [Client Report] (Unpublished)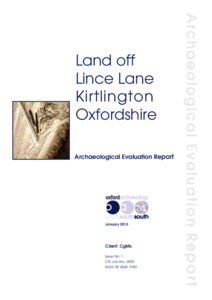 Preview
PDF




KILL14.pdf


Download (21MB) | Preview
Abstract
An archaeological trial trench evaluation on land off Lince Lane, Kirtlington, Oxfordshire (centred on SP 49601950) comprised 10 trenches, arranged to provide even coverage across the site and to investigate possible archaeological features identified by a previous geophysical survey. The site includes two fields, 5.8Ha in extent, currently under pasture and located 200m west of the historic centre of Kirtlington.
Archaeological features were sparsely distributed within the trenches, the only certain features comprising former rectilinear field boundaries and a track. The latter consisted of a pair of undated parallel ditches in Trench 6, near the eastern edge of the site, which were clearly apparent on the geophysical survey plot. Trenches 1 and 4 were positioned to investigate a series of geophysical anomalies in the north-western part of the site, which included former field boundaries forming a perpendicular junction. Very slight traces of a possible NE–SW aligned shallow linear field boundary or hedgerow were recorded in these trenches. The rectilinear boundaries appear to share the same alignment as the present eastern site boundary but are on a different alignment to the northern and western field boundaries, which date back at least to the 1815 Kirtlington Enclosure Act.
The other trenches were placed to investigate various irregular linear geophysical anomalies, but contained no visible archaeological or geological features. Trenches 7, 8 and 9, in the southern field, contained various small irregular features, which may be of natural origin.
All of the suspected archaeological features were excavated in an attempt to recover dating evidence but no artefacts were found. The feature fills were minerogenic with no potential for palaeoenvironmental analysis or radiocarbon dating.
Actions (login required)