Robinson Zeki, Leanne (2019) Wellcome Genome Campus Development Project, Hinxton, Cambridgeshire. [Client Report] (Unpublished)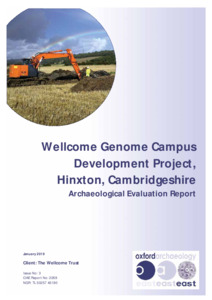 Preview
PDF




OAE_Report_2269_v3_HINGEV18_LR.pdf


Available under License Creative Commons Attribution Share Alike.
Download (6MB) | Preview
Abstract
During October and November 2018, evaluation trial trenching was undertaken by Oxford Archaeology (OA) at the Hinxton Genome Campus, Cambridgeshire, in advance of a planned extension. A total of 159 trenches were excavated in six fields, comprising a 2.5% sample. Low-density archaeological remains were found in all six fields.
Archaeological activity was mostly concentrated in two areas. The first, comprising a large east-north-east to west-south-west orientated ditched feature, with an associated smaller parallel ditch and possible associated pits and post-holes, was found in the north of Field 5 and south of Field 6. These features indicated activity along a possible route or braid of the Icknield Way (Southern Route) in the later prehistoric/Roman period.
The second focus of activity comprised a roughly north to south aligned trackway extending through the middle of the evaluated area. This route was defined by linear archaeological features (ditches and hollow ways), which appeared in Fields 2, 4, 5 and 6. Six perpendicular field boundary ditches indicate agricultural use of the area to either side. These features may have been used during the Early Roman period, although it is possible that the track represents a post-Roman route extending from Stump Cross to the south.
Also of note was a cremation situated in the north of the site, which remains undated. Other scattered archaeological features were present in Fields 2, 3, 4, 5 and 6. Field 1 contained periglacial features, which in certain locations contained archaeological finds, principally worked flints.
The features found in the evaluated area suggest an agricultural hinterland during the late prehistoric and Roman periods, probably closely associated with settlement to the west on the banks of the River Cam and possibly connected to other known spheres of late prehistoric and Roman activity.
The results of the evaluation broadly reflect the potential level of archaeological deposits as predicted in the Environmental Impact Assessment (Chapter 8) produced for the site in November 2018.
Item Type:
Client Report
Uncontrolled Keywords:
Cambridgeshire, cambridgeshire, Hinxton, hinxton, evaluation, Evaluation, archaeological evaluation, Icknield Way, icknield way, trackway, track way, Roman, roman, Iron Age, iron age, Iron age, pottery, ceramic, sherd, Late Bronze Age pottery, late bronze age pottery, Late Iron Age pottery, late iron age pottery, pit, pits, ditch, ditches, field boundary, field boundaries, boundary, boundaries, boundary ditch, boundary ditches, Roman pottery, roman pottery, lithic, lithics, flint, worked flint, lithic implement, Mesolithic, Neolithic, mesolithic, neolithic, fired clay, hearth lining, patera, coin, cremation, cremated bone, human bone, HSR, hsr, animal remains, animal bone, bone, 2269, report 2269, Report 2269, OAE report 2269
Subjects:
Geographical Areas > English Counties > Cambridgeshire
Period > UK Periods > Iron Age 800 BC - 43 AD
Period > UK Periods > Bronze Age 2500 - 700 BC > Late Bronze Age 1000 - 700 BC
Period > UK Periods > Iron Age 800 BC - 43 AD > Late Iron Age 100 BC - 43 AD
Period > UK Periods > Mesolithic 10,000 - 4,000 BC
Period > UK Periods > Neolithic 4000 - 2200 BC
Period > UK Periods > Roman 43 - 410 AD
Divisions:
Oxford Archaeology East
Depositing User:

Hamilton

Date Deposited:
01 Mar 2019 14:12
Last Modified:
07 Sep 2021 10:41
URI:
http://eprints.oxfordarchaeology.com/id/eprint/4675
Actions (login required)