OAU, OAU Oxford Castle Development Oxford Phase 2 Archaeological Evaluation Report. [Client Report] (Unpublished)

Preview
PDF




OXCAST02_Evaluation_phase2.pdf


Download (9MB) | Preview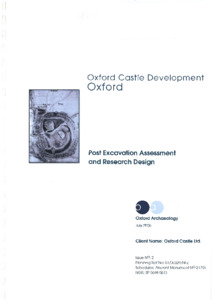 Preview
PDF




OXCAST02_post-ex.pdf


Download (10MB) | Preview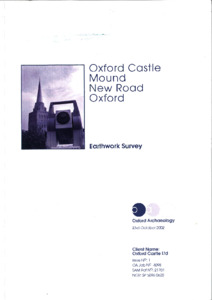 Preview
PDF




OXCAST02_Castle_Mound_New_Road_Earthwork_Survey.pdf


Download (1MB) | Preview
Abstract
Oxford Archaeology (OA) carried out a field evaluation at Oxford Castle
on behalf of Oxford Castle Ltd. The evaluation characterised the motte
ditch on its eastern side and the internal castle deposits. The ditch was
seen to be approximately 15 m wide and over 6 m deep. Medieval deposits
were encountered c 4 m below ground level (bgl) in the centre of the ditch
and 2 m bgl at the eastern edge of the ditch. At the base of the ditch a
large oak beam was discovered which may possibly have been part of a
bridge structure across the ditch.A number of burials were revealed within
the ditch, which may have served as a burial ground for executed and
other criminals from the county gaol. These may date as early as the late
15th century, but a later (16th century) date is also possible. The ditch was
fully backfilled in the 18th century before most of the ditch edge was
removed by quarrying. A medieval foundation was seen, in the SE of the
area, which may have been part of Shire Hall. The foundation was
truncated by pits dated late 11th century or later and by a possible 17th
century robber trench. To the NE of the area possible 10th century and
11th century pits were encountered which appeared to be sealed by
deposits resulting from the levelling of the Castle ramparts, prior to the
construction of New Road. Similarly dated pits were seen in the SE of the
area. A 19th century prison lodge and associated garden walls were built
over the levelling material.
The south western edge of the motte may have sealed Saxon deposits. To
the south of the motte a sequence of 17th century trackway surfaces were
seen with an associated wall, these formed the main thoroughfare through
the Castle. The surfaces were truncated by 18th century buildings which
were demolished during the construction of the prison. Walls associated
with St. George's Chapel were exposed below D Wing. Probable Castle
structures and possibly part of the curtain wall were seen to the south and
west of C Wing. In situ Castle defensive earthworks were exposed in the
SE of the site, sealing possible Saxon cultivation deposits. The foundations
of a number of prison buildings were also recorded.
Actions (login required)