Graham, Steven (2018) Shire Hall Car Park, Bury St Edmunds, Suffolk. [Client Report] (Unpublished)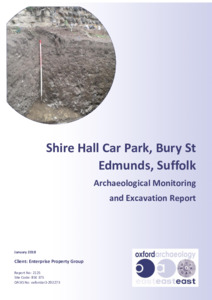 Preview
PDF




BSE375_Report 2125_LR.pdf


Available under License Creative Commons Attribution Share Alike.
Download (4MB) | Preview
Abstract
Between the 21st of June and the 14th July 2017 Oxford Archaeology East carried out archaeological monitoring, excavation and recording along the route of a new sewer pipeline within the car park adjacent to the former Shire Hall, Bury St Edmunds (TL 8588 6396). The sewer was being redirected in advance of a new housing development to the east of the pipeline and the 92m long and 2m wide trench passed under the remains of the extant medieval Abbey precinct wall.
Previous work carried out by Suffolk County Council Archaeology Service in 2011 and Oxford Archaeology in 2016 had identified prehistoric alluvial deposits and a sequence of levelling layers dating to the 13th-15th century onwards. A hitherto unknown buttress on the southern side of the precinct wall was also discovered during the evaluation.
The excavation for the new pipeline revealed a similar sequence of alluvial deposits but also identified a possible early cut feature which produced a single sherd of Middle Saxon pottery along with animal bone and charred cereal remains. Two later parallel ditches were located to the north possibly extending eastwards down to the river, with a third positioned at right angles to the north of the (later) precinct wall. These were sealed by a medieval buried soil which was in turn cut by a large pond, above the infill of which a series of dumped layers of clay, sand and silt had been laid to provide a foundation for the medieval precinct wall. Part of a wall foundation and a possible robbed out buttress were found on the north side of the wall, within the interior of the Abbey precinct.
Extending to the south of the precinct wall, the sequence of imported gravels identified by the previous evaluation was also recorded. These appear to represent episodes of ground raising within the floodplain linked to the creation of the Abbey's fishponds and grazing meadows, when the precinct wall was also extended. Two pits or ditches were located outside the precinct wall, cutting into the uppermost compacted gravel layer or surface. Post-medieval activity was represented by further imported soils probably associated with the gardens of St Margaret's House.
Few finds were recovered, reflecting the limited nature of the investigation and including a small collection of Middle Saxon to post-medieval pottery, medieval and post-medieval tile and brick, crucible fragments, daub and animal bone. Environmental samples produced a fairly diverse assemblage of waterlogged remains and a more limited assemblage of charred plant remains.
Item Type:
Client Report
Uncontrolled Keywords:
Suffolk, suffolk, Bury St Edmunds, bury st edmunds, Watching Brief, watching brief, excavation, Excavation, Monitoring, monitoring, Buttress, buttress, levelling, levelling layer, layer, layers, medieval, Medieval, medieval levelling layer, buried soil, medieval buried soil, middle saxon, Middle Saxon, middle saxon pottery, Middle Saxon pottery, pottery, sherd, ceramic, pond, animal bone, bone, ditch, ditches, 2125, report 2125, Report 2125, OAE report 2125
Subjects:
Geographical Areas > English Counties > Suffolk
Period > UK Periods > Medieval 1066 - 1540 AD
Divisions:
Oxford Archaeology East
Depositing User:

Hamilton

Date Deposited:
05 Mar 2019 11:11
Last Modified:
05 Mar 2019 11:11
URI:
http://eprints.oxfordarchaeology.com/id/eprint/4678
Actions (login required)