Hughes, Vix (2005) Red Bank Road Development, Greater Manchester. Archaeological Review. Project Report. Oxford Archaeology North. (Unpublished)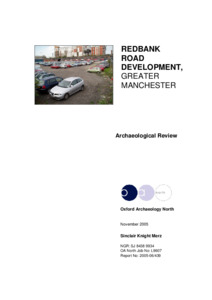 Preview
PDF




completereport.pdf


Download (3MB) | Preview
Abstract
Sinclair Knight Merz requested that Oxford Archaeology North undertake an archaeological review of a car park off Redbank Road, Greater Manchester (centred on SJ 8438 9934), proposed for redevelopment as mixed landuse, including commercial and residential. The aim of the archaeological review was to highlight the archaeological potential of the area and any possible issues that may arise as a result of the proposals. The work was carried out over two days in October 2005, and
involved consultation of the Sites and Monuments Record (SMR), held at Greater Manchester Archaeological Unit (GMAU).
There were no known archaeological sites within the defined boundary of the development area, but there were five SMR sites in close proximity (Sites 1-5), and two sites (Sites 6 and 7) were derived from cartographic sources. All but one of the sites were post-medieval in date. The area of proposed development was determined to be of a moderately high significance at a local scale. This was based on three main facts. Firstly, early medieval remains have been found in the vicinity (Site 1), and the regional rarity of
such remains increases the importance of the development site. Secondly, the proximity of the late eighteenth century (Site 2) and early nineteenth century (Site 7)
ironworks to the north-east and south-west of the site may indicate that associated activity may be found on the site itself. Lastly, the chemical works (Site 6) shown on the map of 1831, demonstrate that it was already established at this time. The nature of the works was unknown, but such early chemical works is unusual and any surviving remains could show what the site was being used for.
Actions (login required)