Bray, Simon and Reynolds, Tim (1997) Bronze Age and Iron Age Activity at Milton: an Archaeological Evaluation. [Client Report] (Unpublished)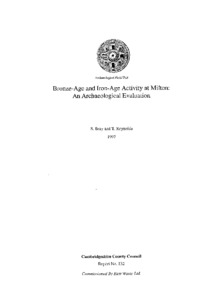 Preview
PDF




CCCAFU_report132.pdf


Available under License Creative Commons Attribution Share Alike.
Download (3MB) | Preview
Abstract
In August and October 1995 a programme of trenching was undertaken to evaluate 38 hectares of arable land between Akeman Street (Mere Way) Roman road and the Romano-British farm estate recorded in 1994 and 1995 on the site if the landfill site 500m to the east.
These evaluation results have confirmed the assumption that the density of archaeological remains diminishes westwards. The recorded remains were localised in four main areas (A - D) and are indicative of occupation. Based on the artefactual evidence, the occupation was dated to the Late Bronze Age/Iron Age.
Bronze Age pottery discovered in three postholes sealed by iron Age deposits suggest the presence of a structure dating to the first millennium BC. Further postholes, pits and possible beamslots together with gullies were found in association with a discrete area of occupation debris, including daub, interpreted as an Iron Age midden. All of these contexts contained Iron Age pottery and animal bone. A ploughsoil of Iron Age date was found to seal an area of pitting.
Two further foci of domestic nature were identified, typified by structural remains, ecofactual and artefactual finds. It is hypothesised that these areas contained one or more shifting farmsteads throughout the Late Bronze Age and Iron Age.
Item Type:
Client Report
Uncontrolled Keywords:
Evaluation, evaluation, archaeological evaluation, Cambridgeshire, cambridgeshire, Milton, milton, Bronze Age, bronze age, Late Bronze Age, late bronze age, Iron Age, iron age, pit, pits, post hole, posthole, post holes, postholes, gully gullies, pottery, ceramic, sherd, pot, animal bone, animal remains, bone, bones, farmstead, settlement, structure, beamslot, beam slot, beamslots, beam slots, occupation, ploughsoil, plough soil, farming, agriculture, 132, report 132, Report 132, CCCAFU report 132
Subjects:
Geographical Areas > English Counties > Cambridgeshire
Period > UK Periods > Bronze Age 2500 - 700 BC
Period > UK Periods > Iron Age 800 BC - 43 AD
Period > UK Periods > Bronze Age 2500 - 700 BC > Late Bronze Age 1000 - 700 BC
Depositing User:

Hamilton

Date Deposited:
11 Mar 2019 11:41
Last Modified:
11 Mar 2019 13:44
URI:
http://eprints.oxfordarchaeology.com/id/eprint/4697
Actions (login required)