Bush, Louise (2018) 4 White Hart Lane, Soham, Cambridgeshire. [Client Report] (Unpublished)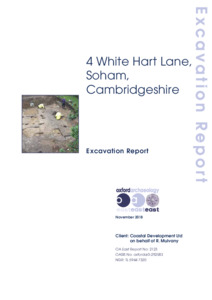 Preview
PDF




Report 2123_LR.pdf


Available under License Creative Commons Attribution Share Alike.
Download (2MB) | Preview
Abstract
From the 6th to the 20th of June 2016 Oxford Archaeology East (OA East) undertook an archaeological excavation on the proposed site of new housing at 4 White Hart Lane, Soham, Cambridgeshire. A variety of features dating from the Iron Age through to the post-medieval period were identified. Iron Age features included the remains of several post-built structures, along with a possible beam-slot building, pits and a ditch. The presence of Roman features on the site suggests a continuity of activity into this period, although on a much less intensive level.
Ditches possibly belonging to the Late Saxon period were also uncovered. These were perpendicular to that dating from the Iron Age period, suggesting a reorganisation of the local landscape potentially occurred at some point during the 1st millennium AD. Medieval and post-medieval ditches, pits and postholes were also recorded. A further reorganisation of the landscape appears to have taken place during the medieval period, with ditches respecting the current road layout in the sites immediate vicinity.
Excavations undertaken on adjacent land to the south, at the old Church Hall site, High Street (Leonard & Woolhouse 2012), identified contemporary remains, and some features could be traced between the two excavation areas. Taken together, the evidence from these two sites provides an insight into the past land-uses in this part of Soham, as well as addressing a number of research themes.
Item Type:
Client Report
Uncontrolled Keywords:
Cambridgeshire, cambridgeshire, Soham, soham, excavation, Excavation, archaeological excavation, Iron Age, iron age, Early Iron Age, early iron age, Late Iron Age, late iron age, Roman, roman, pottery, Pottery, pot, ceramic, sherd, Iron Age pottery, iron age pottery, Early Iron Age pottery, early iron age pottery, Late Iron Age pottery, late iron age pottery, Roman pottery, roman pottery, animal remains, animal bone, bone, bones, HSR, hsr, Human Skeletal Remains, human skeletal remains, CBM, cbm, Ceramic Building Material, ceramic building material, post-built structure, post built structure, structure, agriculture, field system, building, Medieval, medieval, Medieval pottery, medieval pottery, Post-Medieval, post-medieval, Post Medieval, post medieval, Post-Medieval pottery, post-medieval pottery, Post Medieval pottery, post medieval pottery, pit, pits, post hole, post holes, ditch, ditches, 2123, report 2123, Report 2123, OAE report 2123
Subjects:
Geographical Areas > English Counties > Cambridgeshire
Period > UK Periods > Iron Age 800 BC - 43 AD > Early Iron Age 800 - 400 BC
Period > UK Periods > Iron Age 800 BC - 43 AD
Period > UK Periods > Iron Age 800 BC - 43 AD > Late Iron Age 100 BC - 43 AD
Period > UK Periods > Medieval 1066 - 1540 AD
Period > UK Periods > Post Medieval 1540 - 1901 AD
Period > UK Periods > Roman 43 - 410 AD
Divisions:
Oxford Archaeology East
Depositing User:

Hamilton

Date Deposited:
12 Mar 2019 14:59
Last Modified:
12 Mar 2019 14:59
URI:
http://eprints.oxfordarchaeology.com/id/eprint/4700
Actions (login required)