Blackbourn, Kathryn (2019) Middle Iron Age and Roman Settlement Features at Grafham Water Solar Array. [Client Report] (Unpublished)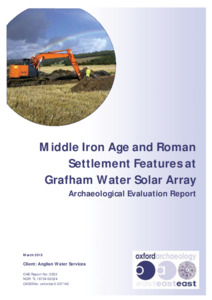 Preview
PDF




Grafham Water evaluation FINAL_LR.pdf


Available under License Creative Commons Attribution Share Alike.
Download (3MB) | Preview
Abstract
From the 31st October to 16th November Oxford Archaeology East undertook a Trial Trench evaluation across three fields at Grafham Water Solar Array, Cambridgeshire (TL 16724 66324). A total of 35 trenches measuring 50m long and 2m wide were excavated across the proposed development area with 12 of the trenches yielding archaeological features.
A total of eight trenches were excavated within Field 1, many of which were targeted across known cropmarks. Previous evaluation and excavation work had taken place in this field and this evaluation further identified evidence of settlement features dating from the Middle Iron Age and Roman periods. Features uncovered comprised ditches, gullies, pits, post-holes and a hollow, many of which yielded finds, including pottery, animal bone, fired clay, stone and metalwork. Only two features towards the south of the field were dated to the Middle Iron Age, possibly representing peripheral Middle Iron Age settlement activity. No Late Iron Age pottery was recovered although Early to Mid Roman pottery was found in a small number of features in this field, with a clear concentration being recorded in Trenches 1 and 2 in the north-west of the site.
A peak of settlement activity was evident during the Mid to Late Roman period, with settlement features centred upon a pair of square or rectangular enclosures in the centre of the site, previously identified as cropmarks. Evidence of possible structures and settlement related features was identified within these enclosures. Large pottery assemblages were recovered from these ditches and a number of isolated features were also revealed.
Only a single possible pit was recorded in Field 2, which yielded no finds. Field 3, although containing the largest number of trenches (22), only revealed three features; two ditches a pit. As with Field 2, these features contained no finds.
Item Type:
Client Report
Uncontrolled Keywords:
Cambidgeshire, cambridgeshire, Grafham, grafham, Grafham Water, grafham water, evaluation, Evaluation, Archaeological Evaluation, archaeological evaluation, Iron Age, iron age, Middle Iron Age, middle iron age, Roman, roman, pottery, ceramic, sherd, Roman pottery, roman pottery, Iron Age pottery, iron age pottery, Middle Iron Age pottery, middle iron age pottery, pit, pits, ditch, ditches, gully, gullies, post hole posthole, post holes, postholes, enclosures, enclosure, settlement, cropmark, cropmarks, fired clay, glass bead, metalwork, nail, animal bone, animal bones, animal remains, bone, 2263, report 2263, Report 2263, OAE report 2263
Subjects:
Geographical Areas > English Counties > Cambridgeshire
Period > UK Periods > Iron Age 800 BC - 43 AD
Period > UK Periods > Iron Age 800 BC - 43 AD > Late Iron Age 100 BC - 43 AD
Period > UK Periods > Iron Age 800 BC - 43 AD > Middle Iron Age 400 - 100 BC
Period > UK Periods > Roman 43 - 410 AD
Divisions:
Oxford Archaeology East
Depositing User:

Hamilton

Date Deposited:
19 Mar 2019 09:02
Last Modified:
19 Mar 2019 09:02
URI:
http://eprints.oxfordarchaeology.com/id/eprint/4709
Actions (login required)