Wallis, H. (2019) Norwich Castle Keep Excavations 2018: PXA and UPD. [Client Report] (Unpublished)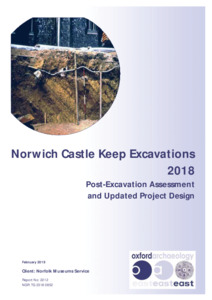 Preview
PDF




Report 2212_LR.pdf


Available under License Creative Commons Attribution Share Alike.
Download (3MB) | Preview
Abstract
A research excavation was undertaken by Oxford Archaeology (OA) East within the Norman keep at Norwich Castle. The works, which were part of the Gateway to Medieval England project, largely funded by the Heritage Lottery Fund and managed by Norfolk Museums Service, excavated three areas within the keep totalling approximately one third of the total internal floor space. In addition to this, seven bore-holes were cored through the mound into the underlying natural, permitting archaeological recording of mound make-up material.
The results of the excavation have confirmed a two-phase construction for the mound, with the earlier, smaller mound of c.1067-1094 being located beneath the keep. Construction techniques used to increase the height and diameter of the mound in c.1094-1122 correspond with evidence from earlier archaeological interventions with the creation of a ringwork that was largely made of chalk and then infilled with other soils.
Construction techniques for the exterior and interior walls of the keep varied, with footing trenches being identified for the north wall and spine wall, but not for the south, east or interior walls in the south-east compartment. Post-holes associated with some of the visible put-log holes were also recorded.
The base of a wall connecting the pier bases in the northern half of the keep was revealed. This formed a physical barrier between these two areas which had different uses throughout the early medieval period. In the northern area, a worn path was identified running from the north-east stairwell diagonally across an open space towards an opening in the central spine wall. To the south of the pier base divide, occupation deposits were identified including a substantial deposit of charcoal and some possible hearths.
In the south-east compartment of the keep the deposits excavated were of a very different nature, being mainly pits with fills of a cessy nature. The underpinning of one of the internal dividing walls was also identified.
In the south-west compartment no early medieval occupation deposits were present, suggesting that the medieval floor level was at a higher level than elsewhere. Medieval occupation layers had been removed by later truncation. Significantly, in this area a small line of post-holes was recorded which appear to post-date the construction of the extended mound but pre-date the construction of the stone keep.
Overall, the works have proved to be immensely informative on the construction of the mound and the keep as well as the early occupation of the structure. Later medieval and post-medieval remains were largely removed during the conversion of the keep into a museum in the late 19th century, although a scatter of evidence relating to these later phases was also recorded.
Item Type:
Client Report
Uncontrolled Keywords:
Norfolk, norfolk, Norwich, norwich, Norwich Castle, norwich castle, Keep, keep, excavation, Excavation, archaeological excavation, test pit, test pits, test pitting, Castle, castle, motte, bailey, mound, basement, settlement, town, city, Medieval, medieval, Late Saxon, late saxon, Post-Medieval, post-medieval, Post Medieval, post medieval, Post medieval, Medieval pottery, medieval pottery, Late Saxon pottery, late saxon pottery, Post-Medieval pottery, post-medieval pottery, Post Medieval pottery, post medieval pottery, Post medieval pottery, pottery, pot, sherd, ceramic, CBM, cbm, Ceramic Building Material, ceramic building material, tile, brick, wall, walls, foundation, foundations, path, stairwell, gaol, jail, pxa, PXA, Post-Excavation Assessment, post-excavation assessment, UPD, upd, updated project design, Updated Project Design, 2212, report 2212, Report 2212, OAE report 2212
Subjects:
Geographical Areas > English Counties > Norfolk
Period > UK Periods > Medieval 1066 - 1540 AD
Period > UK Periods > Post Medieval 1540 - 1901 AD
Divisions:
Oxford Archaeology East
Depositing User:

Hamilton

Date Deposited:
22 Mar 2019 13:03
Last Modified:
23 Sep 2019 13:06
URI:
http://eprints.oxfordarchaeology.com/id/eprint/4712
Actions (login required)