Clarke, Graeme (2019) Peterborough Motorway Services Extension, Haddon. [Client Report] (Unpublished)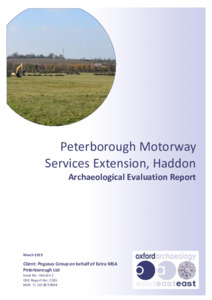 Preview
PDF




Peterborough Services Haddon_evaluation report.pdf


Available under License Creative Commons Attribution Share Alike.
Download (5MB) | Preview
Abstract
Between the 13th and 19th of November 2018 Oxford Archaeology (OA) carried out a trenched evaluation on part of a pastoral field immediately to the south of Peterborough Motorway Services Extension, Haddon, Cambridgeshire (centred on TL 14138 93904). This part of the field will encompass a c.6.1ha extension to the Peterborough Motorway Services; comprising a coach and HGV park. The evaluation comprised the excavation of 30 trenches across the proposed development area.
In the eastern part of the site, Trenches 16, 18 and 23 uncovered two shallow ditches and a pit that produced small quantities of animal bone and Late Pre-Roman Iron Age pottery. These features probably relate to the adjacent Late Iron Age farmstead and Romano-British site excavated in 1989 and 1999 in advance of the construction of the A605 Haddon bypass and Peterborough Motorway Services (CHER 09748).
Relict ridge and furrow cultivation was found to be widespread across the site, that produced few ceramic artefacts dated to the 15th-17th centuries. A linear earthwork was observed in the southern extremity of the site, raised only slightly above the surrounding topography, that delineated an associated ploughsoil headland. It was therefore evident that the field in which the site lay had been subject to arable cultivation during the medieval/post-medieval period. The CHER details multiple records pertaining to ridge and furrow in the surrounding landscape centred on settlement such as the shrunken medieval village of Haddon (MCB 25166; CHER 08748), c.1km to the southwest.
In the northeastern part of the site, Trenches 22, 23 and 28 uncovered ditches that cut the subsoil horizon and therefore are considered to have been recent subdivisions of the current field of lesser archaeological significance.
Item Type:
Client Report
Uncontrolled Keywords:
Cambridgeshire, cambridgeshire, Haddon, haddon, motorway service station, evaluation, Evaluation, archaeological evaluation, ridge and furrow, furrow, rig and furrow, farming, farming practices, field system, agriculture, land management, earthwork, earthworks, Post-Medieval, post-medieval, Post Medieval, post medieval, arable cultivation, arable, arable land, ceramic, pot, pottery, sherd, headland, 2265, report 2265, Report 2265, OAE report 2265
Subjects:
Geographical Areas > English Counties > Cambridgeshire
Period > UK Periods > Iron Age 800 BC - 43 AD
Period > UK Periods > Modern 1901 - present
Period > UK Periods > Post Medieval 1540 - 1901 AD
Divisions:
Oxford Archaeology East
Depositing User:

Hamilton

Date Deposited:
01 Apr 2019 09:18
Last Modified:
01 Apr 2019 09:18
URI:
http://eprints.oxfordarchaeology.com/id/eprint/4718
Actions (login required)