Simmonds, Andrew and Boardman, Sheila and Crann, Geraldine and Hayden, Chris and Shaffrey, Ruth and Hughes, Vix Evaluation phase 1 see https://library.thehumanjourney.net/5649/ Evaluation phase 2 Land off Standard Hill/ Highfield St Hugglescote Leicestershire Excavation of mounds Early and Middle Bronze Age Burnt Mounds at Hugglescote, Coalville, Leicestershire Andrew Simmonds. [Client Report] (Unpublished)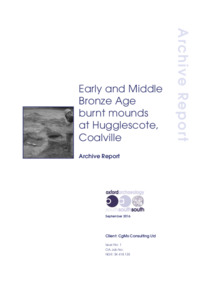 Preview
PDF




X_A51_2014_HUGGLESCOTE_archive_report.pdf


Download (2MB) | Preview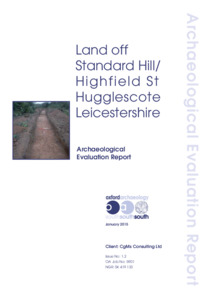 Preview
PDF




X_A51_2014.pdf


Download (2MB) | Preview
Abstract
Evaluation phase 2
Oxford Archaeology South (OAS), was commissioned by CgMs Consulting Ltd, on
behalf of Miller Homes (East Midlands) Ltd, to undertake an eleven trench
evaluation of land at Hugglescote, Leicestershire, NGR SK 4190 1330. The work
was carried out in support of a planning application for residential development
(Planning ref: (12/00007/OUTM)). The work was undertaken between 24th - 26th
September 2014.
Ditches which are the surviving remains of earlier field boundaries were recorded
and probably date to the post-medieval period. These may have been part of the
agricultural systems associated with the villages of Hugglescote and Snibston and
the manor at Donington le Heath and may have been part of the 19th century Tithe
and enclosure landscapes.
No remains pre-dating the post-medieval period were encountered.
Excavation of Mounds
Oxford Archaeology excavated four burnt mounds beside a minor tributary stream of the River Sence at Hugglescote, Coalville, North West Leicestershire, each comprising a mound of charcoal and burnt stone associated with one or more hearths and troughs. Tree-throw holes and possible man-made pits sealed beneath the mounds, as well as a small assemblage of worked flint, attested to limited activity during the Mesolithic and Neolithic periods. Radiocarbon dating indicated that the earliest mound was in use during the early Bronze Age while the other mounds were later, dating from the middle Bronze Age.
Actions (login required)