Kwiatkowska, Malgorzata (2019) Buxhall Farm, Land East of Glebe Way, Histon. [Client Report] (Unpublished)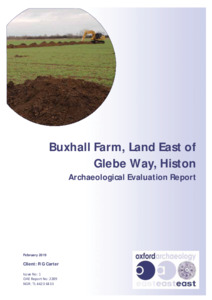 Preview
PDF




OAE_Report_2289_LR2.pdf


Available under License Creative Commons Attribution Share Alike.
Download (4MB) | Preview
Abstract
Between the 21st and 28th January 2019, Oxford Archaeology East (OA East) conducted an archaeological evaluation at Buxhall Farm, on land east of Glebe Way, Histon (centred TL 4423 6433) ahead of an application for construction of a new primary school at the site. A total of seven 50m-long trenches were excavated. Four of these trenches revealed dispersed linear archaeological features, and a further two trenches uncovered a series of agricultural furrows.
The western part of the site was characterised by a total of six agricultural furrows on a west-north-west to east-south-east alignment. These lay perpendicular to a recent boundary ditch (40) shown on the previous geophysical survey undertaken at the site along its eastern boundary.
A total of four ditches were uncovered in the eastern part of the site on north- south and east-west alignments that were not identified by the geophysical survey. The small amount of finds and environmental remains recovered from these features suggest a post-medieval or early modern origin.
Item Type:
Client Report
Uncontrolled Keywords:
Cambridgeshire, cambridgeshire, Histon, histon, Evaluation, evaluation, archaeological evaluation, modern, Modern, Post-medieval, Post-Medieval, post-medieval, Post Medieval, post medieval, geophysical survey, agriculture, ridge and furrow, rig and furrow, furrow, ditch, ditches, boundary ditch, boundary, CBM, cbm, Ceramic Building Material, ceramic building material, animal remains, animal bones animal bone, bone, 2289, report 2289, Report 2289, OAE report 2289
Subjects:
Geographical Areas > English Counties > Cambridgeshire
Period > UK Periods > Modern 1901 - present
Period > UK Periods > Post Medieval 1540 - 1901 AD
Divisions:
Oxford Archaeology East
Depositing User:

Hamilton

Date Deposited:
02 Apr 2019 08:15
Last Modified:
02 Apr 2019 08:15
URI:
http://eprints.oxfordarchaeology.com/id/eprint/4720
Actions (login required)