Booth, Rona (2019) Sheen Farm, Litlington, Cambridgeshire. [Client Report] (Unpublished)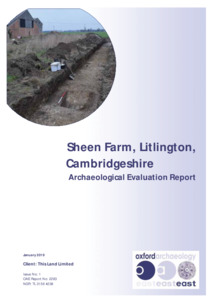 Preview
PDF




OAE_Report 2283_LGTSFM18_LR.pdf


Available under License Creative Commons Attribution Share Alike.
Download (1MB) | Preview
Abstract
In 2019 Henry Riley LLP commissioned a six trench archaeological evaluation at Sheen Farm, Litlington in Cambridgeshire. Currently the site is occupied by modern farm buildings and the surrounding farm land is under the plough. Two trenches were empty but the remaining four contained archaeological features which dated to the Neolithic and Roman periods. Neolithic Grooved Ware pottery in the Durrington Walls style was recovered from two intercutting pits in the northern part of the site. Romano-British remains, including pottery, animal bone and a coin were recovered from a series of linear ditches and discrete features in two trenches towards the south-eastern boundary of the site.
The Romano-British pottery was of particular significance. Local and imported coarse and fine wares were represented and were found to have a similar range of forms and fabrics as those from the Roman villa estate 250m to the west of Sheen Farm. The potential for this to be a high status site associated with the villa is further enhanced by the presence of ceramic building material which included tegula, imbrex and box flue tile.
The recovery of only two Middle Saxon pottery sherds from ditch fills suggest only minimal post-Roman occupation of the site. There was no evidence for any further activity prior to the post-medieval period when the eastern side of the site was levelled for the erection of the current farm buildings.
Item Type:
Client Report
Uncontrolled Keywords:
Evaluation, evaluation, archaeological evaluation, Cambridgeshire, cambridgeshire, Litlington, litlington, Neolithic, neolithic, Roman, roman, pottery, pot, ceramic, sherd, Neolithic pottery, neolithic pottery, Neolithic Grooved Ware, neolithic grooved ware, Grooved Ware, grooved ware, Durrington Walls, durrington walls, Roman pottery, roman pottery, Romano-British pottery, romano-british pottery, tegula, imbrex, box flue tile, CBM, cbm, Ceramic Building Material, ceramic building material, animal bone, animal bones, animal remains, bone, bones, ditch, ditches, early medieval, Early Medieval, early medieval pottery, Early Medieval pottery, 2283, report 2283, Report 2283, OAE report 2283
Subjects:
Geographical Areas > English Counties > Cambridgeshire
Period > UK Periods > Early Medieval 410 - 1066 AD
Period > UK Periods > Neolithic 4000 - 2200 BC
Period > UK Periods > Roman 43 - 410 AD
Divisions:
Oxford Archaeology East
Depositing User:

Hamilton

Date Deposited:
05 Apr 2019 09:41
Last Modified:
10 Apr 2019 07:07
URI:
http://eprints.oxfordarchaeology.com/id/eprint/4732
Actions (login required)