Hogan, Shannon (2007) Dales Manor Business Park, Sawston, Cambridgeshire: DBA. [Client Report] (Unpublished)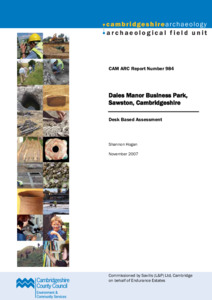 Preview
PDF




cambridg1-36239_1.pdf


Available under License Creative Commons Attribution Share Alike.
Download (1MB) | Preview
Abstract
The study was commissioned by Savills Ltd (on behalf of Endurance Estates) in advance of the proposed redevelopment of Dales Manor Business Park to determine the likely
nature, extent and state of preservation of archaeological remains within the site. The site was deemed to have moderate (to low) potential of archaeological remains likely to date to the later prehistoric, specifically Bronze and Iron Age, and Roman periods. Cropmark enclosures and ring ditches have been recorded extensively throughout Sawston and the neighbouring parishes although the disused 19th century railway and earthworks of the moated site of Dale manor are the only remains within an approximate 500m radius of the business park. The location of the site on the brink of the heavy peats and in an area prone to flooding and water logging suggests that it is unlikely to have ever been a focal point of activity. However, it is possible that Bronze and Iron Age features relating or similar to the
Police Station and Lynton Way activity may extend into the site. Furthermore, the proximity of the Roman route southeast of the site may have resulted in some sporadic activity associated with movement along this course. The degree of survival is indeterminable without full details of the nature and depth of the business park groundworks. However excavations in Sawston village noted deep subsoils, which, if present at the assessment site, may allow for good preservation.
| | |
| --- | --- |
| Item Type: | Client Report |
| Uncontrolled Keywords: | Cambridgeshire, cambridgeshire, Sawston, sawston, DBA, dba Desk-Based Assessment, desk-based assessment, Desk-based Assessment, Desk-based assessment, CAMARC, camarc, 984, report 984, Report 984, CAMARC report 984 |
| Subjects: | Geographical Areas > English Counties > Cambridgeshire |
| Depositing User: | Hamilton |
| Date Deposited: | 08 Apr 2019 07:52 |
| Last Modified: | 08 Apr 2019 07:52 |
| URI: | http://eprints.oxfordarchaeology.com/id/eprint/4735 |
Actions (login required)