Thatcher, Chris (2016) Late Iron and Roman Settlement at Lamp Hill, Wimpole Hall, Cambridgeshire. [Client Report] (Unpublished)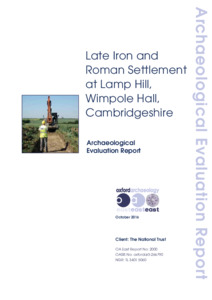 Preview
PDF




Report_2000_LR.pdf


Available under License Creative Commons Attribution Share Alike.
Download (2MB) | Preview
Abstract
Oxford Archaeology East conducted an archaeological evaluation comprising a total of 47 trenches on land to the south of Wimpole Hall, in advance of the proposed construction of a new car park (in two phases) with a Visitor Centre, and new paths to the estate grounds.
The evaluation revealed a sequence of archaeological remains dating from the Iron Age to the Early Roman period. This activity was concentrated on the high ground in the north-western part of the development area. The site was
characteristic of an enclosed farm settlement and the features observed and investigated included ditches, pits and the possible remnants of potential structural remains. Activity on the site was dense and the level of preservation was very good; better even than the remains identified by a preceding geophysical survey.
The finds suggest that the occupation of the site spanned the latest Iron Age (c.1BC/AD) to the mid 1st century AD, with the pottery indicating a peak in activity during the latter part of this timespan. Some of the linear features, particularly those in Trenches 6, 7 and 11, were very substantial and it is suggested that these represented the boundaries to several enclosures. Overall, the large number of ditches and their varying alignments, would indicate multiple phases of activity and use during the lifespan of the settlement.
Numerous smaller linear and discrete features were recorded that have been interpreted as internal features of the settlement. Other notable features included a cobbled surface, roundhouse ring gullies and the remnant of an oven. The limits of the settlement were fairly well defined, with activity tailing off fairly sharply beyond the boundary ditches.
It would appear that the settlement fell out of use by the end of the Early Roman period. However, the recovery of a Late Roman coin from a possible cultivation ditch on the south facing slope to the south of the settlement does indicate that the land was under cultivation until at least the Late Roman period.
Subsequently, the only other activity recorded on site was post-medieval coprolite mining on the high ridge running north to south across the site.
Item Type:
Client Report
Uncontrolled Keywords:
Cambridgeshire, cambridgeshire, Arrington, arrington, Wimpole, wimpole, Wimpole Hall, wimpole hall, evaluation, Evaluation, archaeological evaluation, Roman, roman, Iron Age, iron age, Late Iron Age, late iron age, pottery, pot, ceramic, sherd, Roman pottery, roman pottery, Iron Age pottery, iron age pottery, Late Iron Age pottery, late iron age pottery, animal remains, animal bone, animal bones, bone, bones, coin, knife, brooch, ditch, ditches, pit, coprolite, coprolite mining, Post-Medieval, post-medieval, post medieval, Post Medieval, settlement, cultivation, agriculture, cobbles, cobbled surface, roundhouse, round house, gully, 2000, report 2000, Report 2000, OAE report 2000
Subjects:
Geographical Areas > English Counties > Cambridgeshire
Period > UK Periods > Iron Age 800 BC - 43 AD
Period > UK Periods > Iron Age 800 BC - 43 AD > Late Iron Age 100 BC - 43 AD
Period > UK Periods > Post Medieval 1540 - 1901 AD
Period > UK Periods > Roman 43 - 410 AD
Divisions:
Oxford Archaeology East
Depositing User:

Hamilton

Date Deposited:
08 Apr 2019 09:54
Last Modified:
08 Apr 2019 09:54
URI:
http://eprints.oxfordarchaeology.com/id/eprint/4736
Actions (login required)