Graham, Steven (2018) Farrier's Way, Warboys. [Client Report] (Unpublished)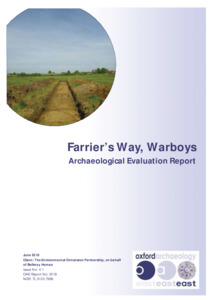 Preview
PDF




OAE_Report 2218_WARFAR18_LR.pdf


Available under License Creative Commons Attribution Share Alike.
Download (4MB) | Preview
Abstract
Between the 7th May and 24th May 2018, Oxford Archaeology East (OA East) conducted an archaeological evaluation at land south of Farrier's Way, Warboys (centred TL 3103 7986). Previously a magnetometer (geophysical) survey was carried out at the site and this had identified enclosure ditches and field systems characteristic of the Roman period.
20 evaluation trenches, making up a 3% sample of the site, were excavated, targeting identified geophysical anomalies, and of these 19 contained one or more ditches and pits dating from the 2nd century AD onwards. Whilst the features were mainly concentrated in the west of the site, there was a broad distribution of archaeology across the site as a whole. Two thirds of the site contained medieval furrows, modern boundary ditches and field drains.
A significant feature was a metalled trackway (with two flanking ditches) running across the entire length of the site on a north-west to south-east orientation. There is a strong probability that this site represents either a Roman 'ladder' or 'cross road' settlement centred on the road and occupied throughout the entire Roman period from the mid-1st century onwards. The focus of the settlement seems to have been at the western end of the site with a ribbon development of enclosures running alongside the road towards the south-east.
The presence of both Roman and Saxon pottery within the upper fills of features both inside and outside of the main settlement (along with evidence of craft industries) implies a continuation of occupation during the post-Roman and into the early Saxon period at least, before the site was turned over to farmland, perhaps from the early medieval period onwards.
Item Type:
Client Report
Uncontrolled Keywords:
Cambridgeshire, cambridgeshire, Warboys, warboys, evaluation, Evaluation, archaeological evaluation, Roman, roman, Iron Age, iron age, pottery, pot, ceramic, sherd, Roman pottery, roman pottery, Iron Age pottery, iron age pottery, trackway, mettalled trackway, ladder system, field system, agriculture, cultivation, settlement, Saxon, saxon, Early Medieval, early medieval, Saxon pottery, saxon pottery, Early Medieval pottery, early medieval pottery, furrow, furrows, ridge and furrow, ridge-and-furrow, Medieval, medieval, Horningsea ware, horningsea ware, glass, flint, nail, 2218, report 2218, Report 2218, OAE report 2218
Subjects:
Geographical Areas > English Counties > Cambridgeshire
Period > UK Periods > Early Medieval 410 - 1066 AD
Period > UK Periods > Iron Age 800 BC - 43 AD
Period > UK Periods > Medieval 1066 - 1540 AD
Period > UK Periods > Roman 43 - 410 AD
Divisions:
Oxford Archaeology East
Depositing User:

Hamilton

Date Deposited:
08 Apr 2019 14:15
Last Modified:
23 Apr 2019 14:29
URI:
http://eprints.oxfordarchaeology.com/id/eprint/4737
Actions (login required)