Booth, Rona (2019) Informative Trial Trenching at Wretham Road, Great Hockham, Norfolk. [Client Report] (Unpublished)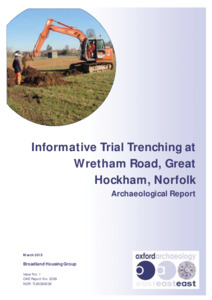 Preview
PDF




Report 2299_LR.pdf


Available under License Creative Commons Attribution Share Alike.
Download (3MB) | Preview
Abstract
Between the 25th and the 28th of February 2019, Oxford Archaeology (OA) conducted informative trial trenching at land off Wretham Road, Great Hockham, Norfolk (centred TL95089238). The work was undertaken to provide information to the Planning Authority about the archaeological potential of the site in advance of submission of a Planning Application. Seven 40m trenches were excavated and five of these revealed linear and discrete archaeological features.
Three main zones of activity were identified during the trial trenching. To the west of the site, numerous ditches, gullies and discrete features were tentatively dated to the medieval period. The linear features were on various alignments and no clear relationships to existing boundaries were identified. In the central part of the site, three pits of potential medieval origin suggest a focal point for activity of an agricultural nature, as charred grains were present within the pit fills. A further series of boundary ditches of probable medieval date were identified at the extreme eastern end of the site.
The Great Hockham site represents an area of rural activity, but not formal settlement, that can be provisionally dated to the Roman or medieval periods from the sparse pottery finds, although lack of reliable dating precludes any certainty. However, the trial trenching does confirm that agriculture (both arable and pasture) was undoubtedly happening in the locality from at least the medieval period onwards; perhaps as early as the Roman period, given that both Roman and medieval pottery finds have been recovered previously from the local area.
Item Type:
Client Report
Uncontrolled Keywords:
Evaluation, evaluation, archaeological evaluation, Norfolk, norfolk, Great Hockham, great hockham, Medieval, medieval, pit, pits, ditch, ditches, Medieval pottery, medieval pottery, Roman pottery, roman pottery, pottery, pot ceramic, sherd, agriculture, cultivation, gully, gullies, 2299, report 2299, Report 2299, OAE report 2299
Subjects:
Geographical Areas > English Counties > Norfolk
Period > UK Periods > Medieval 1066 - 1540 AD
Period > UK Periods > Roman 43 - 410 AD
Divisions:
Oxford Archaeology East
Depositing User:

Hamilton

Date Deposited:
10 Apr 2019 13:38
Last Modified:
21 Feb 2020 11:05
URI:
http://eprints.oxfordarchaeology.com/id/eprint/4740
Actions (login required)