Cox, Nicholas (2019) Pentney Quarry, Norfolk. [Client Report] (Unpublished)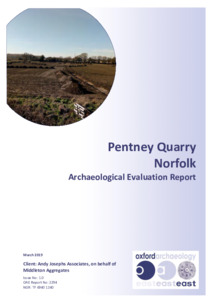 Preview
PDF




OAE_Report2294_XNFPYQ19_LR.pdf


Available under License Creative Commons Attribution Share Alike.
Download (6MB) | Preview
Abstract
Between the 11th and 15th of February 2019 OA East carried out a trial trench evaluation on land to the east of Pentney Quarry, Norfolk. This work was carried out in preparation for the future expansion of the quarry.
A total of thirty-seven 30m trenches were excavated. A total of nine possible ditches and gullies were identified along with a large number of periglacial and other natural features.
No finds were recovered from any of these features.
Item Type:
Client Report
Uncontrolled Keywords:
Norfolk, norfolk, Pentney, pentney, Pentney Quarry, pentney quarry, ditch, ditches, gully, gullies, 2294, report 2294, Report 2294, OAE report 2294
Subjects:
Geographical Areas > English Counties > Norfolk
Period > None
Divisions:
Oxford Archaeology East
Depositing User:

Hamilton

Date Deposited:
10 Apr 2019 14:42
Last Modified:
10 Jun 2019 10:22
URI:
http://eprints.oxfordarchaeology.com/id/eprint/4741
Actions (login required)