Dawson, Jo (2005) Southend Road, Penrith, Cumbria. Archaeological Desk-Based Assessment. Project Report. Oxford Archaeology North. (Unpublished)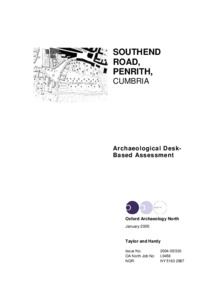 Preview
PDF




Southend_Road_Report.pdf


Download (4MB) | Preview
Abstract
Oxford Archaeology North was commissioned by Taylor and Hardy, acting on behalf of Lowther Manelli and Tesco, to undertake an archaeological desk-based assessment
of the site of a proposed superstore and associated development adjacent to Southend Road, Penrith, Cumbria (area centred NY 5163 2987). The archaeological work,
which was undertaken in December 2004 and January 2005, was requested to inform a forthcoming planning application for the proposed development.
The desk-based assessment demonstrated that the study area lies on the edge of the historic core of Penrith, and has some potential to contain buried remains of medieval tenements. The area adjoins Great Dockray market place, which has been an important feature of Penrith since the medieval period. Considerable post-medieval development is recorded along the northern and eastern edges of the area, some of which has survived as standing buildings. The archaeological and historical importance of many of these structures is reflected by their listed building status, and
by their inclusion in a conservation area. The group value of the street frontage in this area has been assessed as being of regional significance, with the Two Lions public
house being of national significance due to its Grade II* listed status. The potential for below ground remains in these areas is currently untested, although archaeological
excavations in the vicinity have yielded artefacts and structural remains of medieval and later date.
Actions (login required)