Elsworth, Dan (2007) Kendal Fell Quarry, Kendal, Cumbria. Conservation Plan. Project Report. Oxford Archaeology North. (Unpublished)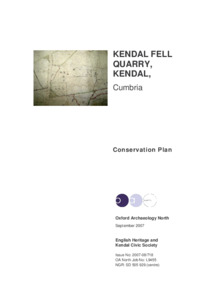 Preview
PDF




KendalFellQuarry_Combined_forreprequest_191118.pdf


Download (7MB) | Preview
Abstract
Oxford Archaeology North was requested by Kendal Civic Society to complete a Conservation Plan of Kendal Fell, Kendal, Cumbria (centred on SD 505 929). This arose as a result of their proposal to restore and make accessible to the public a lime kiln at Greenside, which is a Scheduled Monument (SM 34994). The scope of this scheme was extended using funding from the Aggregate Levy Sustainability Fund
(ALSF) to cover the whole of Kendal Fell Quarry in the ownership of South Lakeland District Council.
Kendal Fell was enclosed by Act of Parliament in 1767, and forms an important part of the landscape of Kendal. It has played a major role in processes associated with the
woollen and lime-burning industries, and its extensive quarries were also used for building stone, notably by the famous local company of Holme and Webster.
SIGNIFICANCE
The Conservation Plan reviews the archive sources for the history of Kendal Fell Quarry in order to establish an understanding of the historic site. This has been coupled with a topographical survey of the study area, which aimed to identify the extent and condition of archaeological features on Kendal Fell. In total, 39 sites of archaeological interest were identified, the majority relating to quarrying. Other sites, which had not been recorded previously, relate to agricultural activity on the Fell, and include original field boundaries laid out after the land was enclosed in 1767, but which had been removed by 1812. The combined results of the historical background
and the topographical survey allowed a detailed consideration of the significance of the various aspects of the landscape to be created. In terms of statutory designations, the study area contains one Scheduled Monument (Greenside Lime Kiln, SM 34994).
Actions (login required)