Schofield, Peter (2005) Whinash Wind Farm Phase 3, Cumbria. Archaeological Survey. [Client Report] (Unpublished)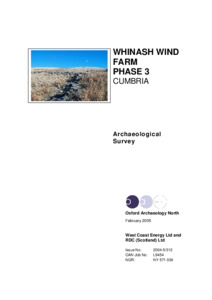 Preview
PDF




L9454_Whinash_All_Rep.pdf


Download (9MB) | Preview
Abstract
Oxford Archaeology North (OA North) undertook a rapid identification survey, on behalf of West Coast Energy Ltd and Renewable Development Company Ltd (RDC - Scotland) during February and August 2003. The survey covered a 200m wide development corridor around twenty seven wind turbines and cable routes on Brotherdale Ridge between the Borrowdale and Bretherdale valleys. The development area ran for over 6km along the ridge line from north of Crookdale Crag (NY 5559 0613) in the north-west to Casterfell Hill (NY 5970 0205) in the south-east. Further phases of rapid identification survey were carried out in October 2004 and January 2005 and this concentrated on three areas of the assessment area initially outside the previous identification survey corridor where finalised plans for turbine locations and access tracks have extended beyond the original survey area.
The rapid identification from the present Phase 3 survey identified a further two sites (Sites 38-9) in addition to the seven sites previously discovered by the Phase 2
archaeological survey (OA North 2003b - Sites 31-37), and this complemented the previous work of the Phase 1 desk-based assessment (LUAU 2000). The sites from Phases 2 and 3 include a prehistoric cairn (Site 37), a marker cairn (Site 36) and parliamentary enclosure boundaries (Sites 23, 33 and 35). A small extension to the north-western end of the application boundary had been proposed along the course of
an existing track. The area had been subject to watching brief assessment during the construction of a United Utilities pipeline easement (OA North 2003c). At the time of
the present visit the area within the pipeline easement had been excavated, the pipe laid and the ground backfilled. No further archaeological sites were discovered within this
area.
Actions (login required)