Clark, Paul (2004) K Village and Overspill Car Park, Kendal, Cumbria. Archaeological Desk-Based Assessment. Project Report. Oxford Archaeology North. (Unpublished)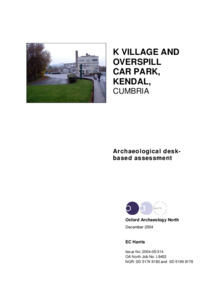 Preview
PDF




CompleteReport.pdf


Download (21MB) | Preview
Abstract
In response to a proposed redevelopment of K Village, Lound Road, Kendal, Cumbria (SD 5174 9180), and its associated overspill car park, located at the eastern end of
Lound Street, and accessed from Park Side Road, Kendal (SD 5199 9178), Cumbria County Council Archaeology Service (CCCAS) have advised that an archaeological
investigation of the site be undertaken to further inform the planning process, in the form of an archaeological desk-based assessment and evaluation. The sites lie within
the designated Hazard Area for medieval Kendal (SMR 2076). EC Harris on behalf of The Farningham McCreadie Partnership Ltd, commissioned Oxford Archaeology North (OA North) to undertake a desk-based assessment, in the first instance, of the two sites. The results are aimed at informing the position of evaluation trenches, required at the K Village site, and gauge the potential for the survival of remains on
the overspill car park as to whether evaluation trenching would be required.
The desk-based assessment was undertaken in November 2004 and comprised a search of both published and unpublished records held by the Sites and Monuments Record (SMR) in Kendal, the Cumbria County Record Office in Kendal, and the archives and library held at OA North. In addition to this, the two sites were visited, in order to relate the landscape and surroundings to the results of the desk-based assessment, and also to investigate any hazards or constraints to the subsequent evaluation on the K Village site. The significance criteria detailed in PPG 16 (DoE 1990) were employed to assess the potential impact of the proposed development.
Actions (login required)