Lambert, Paddy (2019) Earsham Quarry, Areas 2 & 3, Norfolk. [Client Report] (Unpublished)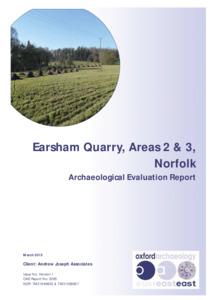 Preview
PDF




OAE_Report 2295_XNFEAR19_LR.pdf


Available under License Creative Commons Attribution Share Alike.
Download (4MB) | Preview
Abstract
Between 28th January and 19th February 2019, Oxford Archaeology East (OA East) conducted a trial trench evaluation at Area 2 (6.38ha) and Area 3 (9.12ha) (centred TM31648952 & TM31368857) at Earsham Quarry, Norfolk in advance of planning permission for an expansion of Earsham Quarry. Area 1 was evaluated previously by Archaeological Solutions in 2017 and an excavation was carried out by Archaeological Solutions of the adjoining Pheasants Walk site in 2006. The results of this evaluation augment the data collected by the previous works.
Archaeological remains were identified across both areas in clear coherent clusters of activity; some features identified correspond with the results of the geophysical survey. However, these are primarily limited to the post-medieval ditches and the large ditch on Area 2. The large majority of features uncovered were not identified in the survey. Area 2 contained a wealth of archaeological evidence in the form of pits, ditches, postholes, a sunken featured building (SFB) and a barrow, previously identified by aerial photography. Particularly notable is the presence of a very broad, probably prehistoric ditch that may form part of a large segmented oval enclosure. The features investigated indicate a prolonged period of funerary activity, settlement and cultivation spanning five distinct periods, including evidence for Late Neolithic, Early Bronze Age, Early Iron Age, Roman and Saxon activity. Pottery, worked flint and metalwork were recovered. Particularly notable is the presence of a single Roman pit containing pottery wasters that is indicative of possible production in the vicinity of the site. Furthermore, the presence of Early Saxon settlement, seen in the form of an SFB and situated within close proximity to an Early Bronze barrow is cause for considerable interest. Post-medieval activity in the form of enclosure ditches were also identified and correlate with known cartographic sources.
Area 3 contained similar features in terms of ditches, pits and postholes but in lesser intensity than that observed in Area 2 and appears to mark a south-eastern periphery. Evidence for Late Neolithic activity and Early Bronze Age are focused around a ridge to the north-west of the area, evidenced by pits and postholes. Two ditches, dated to the Roman period, are located on the slope of the hill. Evidence for the Early Saxon period is not represented by features but attested to via the recovery of pottery dating to the period from the subsoil. Post-medieval enclosure ditches were also identified that similarly can be matched with the associated enclosure maps.
Overall the archaeological works at Earsham Quarry have confirmed the presence of Neolithic, Bronze Age, Iron Age, Roman and Saxon remains across both areas, indicative of a widely exploited and managed landscape.
Item Type:
Client Report
Uncontrolled Keywords:
Norfolk, norfolk, Earsham, earsham, evaluation, Evaluation, archaeological evaluation, Quarry, quarry, pit, pits, ditch, ditches, post hole, post holes, posthole, postholes, SFB, sfb, sunken featured building, Sunken Featured Building, Sunken-featured building, sunken-featured building, Grubenhaus, grubenhaus, Barrow, barrow, Late Neolithic, late neolithic, Early Bronze Age, early bronze age, Early Iron Age, early iron age, Roman, roman, Saxon, saxon, Anglo-Saxon, anglo-saxon, Early medieval, early medieval, pottery, pot, sherd, ceramic, flint, worked flint, lithic, lithics, lithic implement, animal bone, bone, animal remains, enclosure, enclosures, segmented enclosure, furrow, furrows, ridge-and-furrow, ridge and furrow, cultivation, agriculture, funerary activity, settlement, pottery waster, 2295, report 2295, Report 2295 OAE report 2295
Subjects:
Geographical Areas > English Counties > Norfolk
Period > UK Periods > Bronze Age 2500 - 700 BC
Period > UK Periods > Bronze Age 2500 - 700 BC > Early Bronze Age 2500 - 1500 BC
Period > UK Periods > Iron Age 800 BC - 43 AD > Early Iron Age 800 - 400 BC
Period > UK Periods > Early Medieval 410 - 1066 AD
Period > UK Periods > Iron Age 800 BC - 43 AD
Period > UK Periods > Neolithic 4000 - 2200 BC > Late Neolithic 2700 - 2200 BC
Period > UK Periods > Neolithic 4000 - 2200 BC
Period > UK Periods > Post Medieval 1540 - 1901 AD
Period > UK Periods > Roman 43 - 410 AD
Divisions:
Oxford Archaeology East
Depositing User:

Hamilton

Date Deposited:
15 Apr 2019 10:17
Last Modified:
21 Feb 2020 11:07
URI:
http://eprints.oxfordarchaeology.com/id/eprint/4751
Actions (login required)