Judith, Roberts (2002) Iron Age Occupation at 14 Parkhall Road, Somersham. [Client Report] (Unpublished)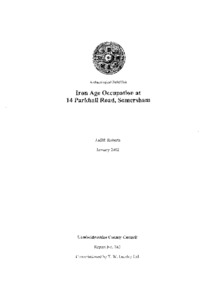 Preview
PDF




CCCAFU_report182.pdf


Available under License Creative Commons Attribution Share Alike.
Download (10MB) | Preview
Abstract
Archaeological excavation of the development site at 14 Parkhall Road, Somersham (TL 3610 7815) revealed medieval activity in the eastern part of the site, close to Parkhall Road, whilst the western part of the site contained evidence of Iron Age occupation. This included early and mid-later Iron Age features. In the early Iron Age a 'for-post' structure and a possible 'eavesdrip gully' were found, together with some major north-south boundary ditches and a series of isolated pits and post holes. In the mid to later Iron Age two further possible roundhouses were found and a rectangular post-built structure. There seems to be continuity in the location and activities from the previous period and this is reflected in the ditch system.
The nature of the remains suggests the site was peripheral to the Iron Age settlement and comprised mainly ditches and pits with some evidence of structures. Monitoring of foundation digging and service trenches showed post-medieval structures and quarrying close to Parkhall Road.
The excavation has highlighted the lack of refined dating typology for Iron Age pottery. Using present typologies Iron Age pottery from period 1 is dated between 800-500BC and period 2 between 300-1--BC. Stratigraphic and distributional evidence, however, shows continuity between periods.
Item Type:
Client Report
Uncontrolled Keywords:
Cambridgeshire, cambridgeshire, Somersham, somersham, excavation, Excavation, archaeological excavation, Iron Age, iron age, Iron age, early iron age, Early Iron Age, Middle Iron Age, middle iron age, Late Iron Age, late iron age, pottery, pot, ceramic, sherd, Iron Age pottery, iron age pottery, Iron age pottery, early iron age pottery, Early Iron Age pottery, Middle Iron Age pottery, middle iron age pottery, Late Iron Age pottery, late iron age pottery, four post structure, gully, ditch, ditches, boundary, boundary ditch, boundary ditches, field system, post hole, posthole, postholes, post holes, roundhouse, round house, roundhouses, round houses, Medieval, medieval, furrow, furrows, ridge and furrow, ridge-and-furrow, post-medieval, post medieval, Post-Medieval, Post-medieval, Post Medieval, structure, structures, quarry pit, quarrying, 182, report 182, Report 182, CCCAFU report 182
Subjects:
Geographical Areas > English Counties > Cambridgeshire
Period > UK Periods > Iron Age 800 BC - 43 AD > Early Iron Age 800 - 400 BC
Period > UK Periods > Iron Age 800 BC - 43 AD
Period > UK Periods > Iron Age 800 BC - 43 AD > Late Iron Age 100 BC - 43 AD
Period > UK Periods > Medieval 1066 - 1540 AD
Period > UK Periods > Iron Age 800 BC - 43 AD > Middle Iron Age 400 - 100 BC
Period > UK Periods > Post Medieval 1540 - 1901 AD
Depositing User:

Hamilton

Date Deposited:
23 Apr 2019 09:53
Last Modified:
23 Apr 2019 09:53
URI:
http://eprints.oxfordarchaeology.com/id/eprint/4753
Actions (login required)