Blackbourn, Kathryn (2019) Middle Iron Age Settlement at Highfields, Caldecote, Cambridgeshire: PXA and UPD. [Client Report] (Unpublished)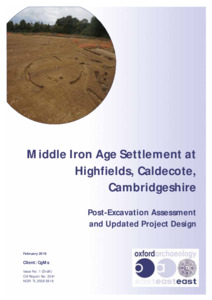 Preview
PDF




OAE_Report 2241_CALHIG18_LR.pdf


Available under License Creative Commons Attribution Share Alike.
Download (2MB) | Preview
Abstract
From the 4th July to 6th September 2018 Oxford Archaeology East undertook an archaeological excavation at land east of Highfields Road, Highfields Caldecote, Cambridgeshire (TL 3558 5918). The excavation revealed part of a Middle Iron Age farmstead, a later (probably Early Roman) surfaced track and several associated ditches, all cut by a series of medieval to post-medieval furrows.
The Middle Iron Age farmstead was represented by the remains of several roundhouses (one set within an enclosure), ditches (including a long-lived boundary) and pits, hearths and post-holes, along with a four-post structure. At least two sub-phases of activity were discernible within this main settlement phase. Many of the features yielded finds, including a notable group of Middle Iron Age pottery (1841 sherds, weighing 11916g) which comprises a mix of decorated and undecorated sherds broadly typical of pottery groups of this date from southern Cambridgeshire. Other finds include animal bone, burnt stone, fired clay, flint, metal working debris and metal finds that together will help to build a picture of the different activities undertaken at the site as well as husbandry and other farming practices being carried out. Although there was a paucity of plant remains within the bulk samples, there is good potential from pollen sub-samples to provide evidence for local environment and land-use around the site.
Settlement appears to have shifted elsewhere by the Late Iron Age period: finds from the uppermost fills of some of the ditches suggest they had silted up and were no longer maintained by c. 50BC. The surfaced track, which cut across several of the Middle Iron Age features, produced a small number of abraded Early Roman pottery sherds. This track and associated ditches may have been related to a new settlement established in this period, a number of which have been identified in the vicinity.
The claylands around Caldecote were clearly extensively settled and farmed during the Iron Age (and Roman) periods, and this excavation makes a valuable contribution to this growing corpus of sites.
Item Type:
Client Report
Uncontrolled Keywords:
Cambridgeshire, cambridgeshire, Caldecote, caldecote, Highfields, highfields, Excavation, excavation, Iron Age, iron age, Roman, roman, Middle Iron Age, Medieval, medieval, pottery, pot, ceramic, sherd, Iron Age pottery, iron age pottery, Roman pottery, roman pottery, Middle Iron Age pottery, gully, roundhouse, round house, roundhouses, round houses, ditch, ditches, boundary ditch, boundary ditches, enclosure ditch, trackway, holloway, surface, hand axe, handaxe, furrow, ridge-and-furrow, ridge and furrow, MWD, mwd, metalworking debris, fired clay, burnt stone, brooch, Nauheim brooch, nauheim brooch, flint hammerstone, percussor, hammerstone, worked flint, flint, lithic, lithics, 2241, report 2241, Report 2241, OAE report 2241, PXA, pxa, post-excavation assessment, Post-excavation Assessment, UPD, upd, Updated Project Design, updated project design
Subjects:
Geographical Areas > English Counties > Cambridgeshire
Period > UK Periods > Iron Age 800 BC - 43 AD
Period > UK Periods > Iron Age 800 BC - 43 AD > Late Iron Age 100 BC - 43 AD
Period > UK Periods > Medieval 1066 - 1540 AD
Period > UK Periods > Iron Age 800 BC - 43 AD > Middle Iron Age 400 - 100 BC
Period > UK Periods > Roman 43 - 410 AD
Divisions:
Oxford Archaeology East
Depositing User:

Hamilton

Date Deposited:
23 Apr 2019 11:20
Last Modified:
23 Apr 2019 11:20
URI:
http://eprints.oxfordarchaeology.com/id/eprint/4754
Actions (login required)