Ford, Louise and Taylor, Karl (2005) Woolpack Yard, Kendal, Cumbria. Archaeological Desk-Based and Building Assessment. Project Report. Oxford Archaeology North. (Unpublished)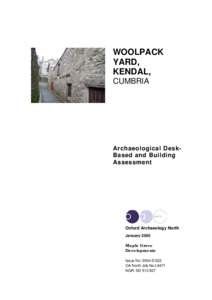 Preview
PDF




CompleteReport.pdf


Download (19MB) | Preview
Abstract
Cumbria County Council Archaeology Service (CCCAS) were consulted regarding a planning application for the redeveloment of Woolpack Yard, Kendal, Cumbria (centred on SE 513 927). In response to this, CCCAS issued a brief for an archaeological desk-based and building assessment. Following the submission of a project design, Maple Grove Developments commissioned Oxford Archaeology North
to undertake the work.
The desk-based assessment was carried out over a number of days within December 2004 and involved visits to the Sites and Monuments Record (SMR) for Cumbria, held in Kendal, and the Cumbria County Record Office (CCRO), also in Kendal.
In total, 19 sites were identified within the study area, of approximately 100m x 100m at its widest. All the sites were identified from cartographic sources. The sites can all
be dated to the post-medieval period, although a range of sites was recognised. These include two pathways (Sites 01 and 02), a bowling green (Site 03), a Chapel (Site 09)
and buildings (Sites 04–08, 10–19). All the sites were assessed for their archaeological significance by using the criteria laid down in Annex 4 of PPG 16 (DoE 1990).
All the sites, apart from Site 09, are within the study area and will be affected by any development. These sites are all of local significance and, to a certain extent, of
regional significance as they represent the development of a yard and they are therefore part of a post-medieval landscape. There is also potential for remains of
industrial activity in the yard, such as smithing and possible wool trade.
Actions (login required)