Druce, Denise and Gajos, Hannah (2005) Barrow Offshore Windfarm, Middleton Sands, Heysham, Lancashire. Walkover Survey and Environmental Sampling. [Client Report] (Unpublished)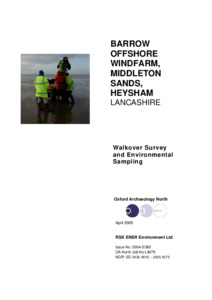 Preview
PDF




Complete Report.pdf


Download (17MB) | Preview
Abstract
Following an environmental assessment (Wessex Archaeology 2002), Oxford Archaeology North (OA North) was commissioned by RSK ENSR Environment Limited to undertake a programme of archaeological fieldwork along the overland route of an electric cable (NGR 3435 4610 – 3405 4575) associated with the proposed Barrow Offshore Windfarm, 21.8 kilometres off the western coast of Lancaster.
Electricity cabling between the windfarm and a substation at Heysham passes under the sea and onto Middleton Sands, Morecambe Bay.
The archaeological fieldwork was undertaken from 9th to 11th February 2005 to take advantage of a period of extreme low tides and comprised two stages: firstly, a total of
eleven palaeoenvironmental sampling cores, up to 1.5m deep, were taken at roughly 100m intervals along the cable route on the intertidal foreshore, which was also the subject of a rapid walkover; secondly, a 100m wide corridor either side of the adjoining dry-land cable route, c3km in length, was subjected to a level 1 walkover survey.
Previous archaeological work in the area indicated the presence of features dated from the early prehistoric period through to the modern period (Wessex Archaeology 2002),
but only a limited number of features were observed during the dry-land walkover survey. This is likely to be a consequence of present day land-use and former landscaping, which has served to obliterate or conceal any archaeological remains within the dry-land walkover area.
As a result of the coring and the intertidal walkover, no alluvial clay/peat deposits or palaeochannels were evident on the route of the cable; therefore, no further palaeoenvironmental investigations are recommended.
Actions (login required)