Lane, Andy (2006) Carlisle City Centre, Cumbria. Archaeological Watching Brief. January 2006. Project Report. Oxford Archaeology North. (Unpublished)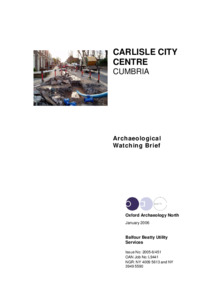 Preview
PDF




completereport.pdf


Download (4MB) | Preview
Abstract
Between November 2004 and June 2005 Oxford Archaeology North (OA North), undertook a series of archaeological watching briefs within Carlisle City Centre, Cumbria, within the areas of John Street, Church Street, and Shaddongate (NY 3949 5590), Rickergate, Corporation Road, Peter Street, Clifford Street, Scotch Street, Market Street, Fisher Street, St. Marys Gate, Rosemary Lane, English Street and
Castle Street (NY 4009 5613). The work was undertaken on behalf of Balfour Beatty Utility Services.
The aim of the watching brief was to establish the existence and location of any surviving archaeological remains during the course of refurbishment works associated with the water supply to Carlisle town centre.
A total of 124 trenches were excavated, of which 94 revealed only the modern backfill of service trenches. Six of the trenches revealed natural geological deposits, sealed by
modern material, suggesting that in these areas any archaeological stratigraphy had been previously destroyed. Twenty-two trenches, however, revealed layers that may
represent surviving archaeological deposits. One of these revealed a nineteenth century plank and concrete constructed drain. Unfortunately, no dating material was retrieved from the archaeological deposits. A further four trenches had been excavated and backfilled without any archaeological observation.
Actions (login required)