Clark, Paul and Druce, Denise (2005) Lytham Quays, Liggard Brook, Lytham, Lancashire. Archaeological Evaluation and Paleoenvironmental Coring. Project Report. Oxford Archaeology North. (Unpublished)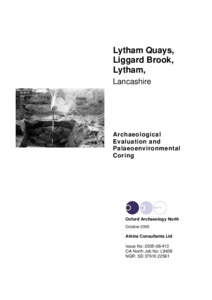 Preview
PDF




Complete report.pdf


Download (7MB) | Preview
Abstract
Following submission of a project design to meet a specification formulated by Atkins Consultants in liaison with Lancashire County Archaeology Service (LCAS), Oxford
Archaeology North were commissioned to undertake a programme of archaeological work ahead of a proposed development on a c29 hectare site at the mouth of Liggard Brook, Lytham, Lancashire NGR SD 37910 22561. This program of work was to
consist of an archaeological evaluation comprising the excavation of 23 trial trenches, coupled with a programme of palaeoenvironmental coring. Due to the current status of
land ownership within the development area, it was proposed that a two-phased approach be undertaken. The first phase involved the excavation of 14 trenches (Trenches 8-14 and 17-22), and c75% of the required palaeoenvironmental coring (21 boreholes). Trenches 1-5, 15 and 16, and the outstanding coring requirements, will be undertaken during the second phase of fieldwork, once this land has been acquired.
The 14 evaluation trenches were positioned in such a manner as to investigate areas of known archaeological potential, particularly the graving dock and ship-building yard
located to the north of the study area and identified from old maps. Trench 8 was placed staddling the flood defence associated with the former graving dock, and it is
possible that truncated building debris dump 51 could relate to the demolition of this feature. Trenches 9-14 were placed within the suspected area of the former shipyard.
Wall 65 within Trench 11 was on a very similar north-north-east/south-south-west alignment to that of a long building from the shipyard. Other features such as sunken barrel 64 (Trench 11), industrial floor surface 76 (Trench 14) may also relate to the shipyard, as might the layers of demolition debris 69, 63 (dated to 1887-1925 on the
basis of finds), 53 (dated to the turn of the twentieth century), 72 and 75 in Trenches 9, 11, 12, 13 and 14 respectively.
Actions (login required)