Blackbourn, Kathryn (2019) Land South of Burwell Road, Exning, Suffolk. [Client Report] (Unpublished)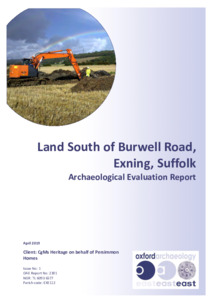 Preview
PDF




OAE_Report2301_XSFBRE19_LR.pdf


Available under License Creative Commons Attribution Share Alike.
Download (5MB) | Preview
Abstract
From the 25th February to the 7th of March 2019 Oxford Archaeology East undertook a trial trench evaluation on land south of Burwell Road, Exning, Suffolk (TL 6093 6577).
A total of 80 trenches, each measuring 30m in length, were excavated across the site, the majority of which positioned on a grid array, apart from Trenches 3 and seven which were targeted on the results of a geophysical survey (Roseveare 2017). Only nine of the trenches contained archaeological features; however, a number of the trenches (particularly those within the north of the site) contained irregular periglacial features, hollows and striations.
A sample of the periglacial hollows were investigated by the excavation of a series of 1m2 test pits, with the hollow in Trench 11 yielding Early Neolithic pottery and animal bone. Other periglacial features and striations were also excavated, largely within Trenches 1 to 19.
In the north-west part of the site, Trenches 3 and 7 revealed a large ditch with a north-east to south-west alignment. This ditch had previously been identified from the geophysical survey. No finds were recovered and therefore the ditch remains undated; a single grain of emmer/spelt wheat was recovered from an environmental sample. A small number of other features were recorded in the north-west part of the site, including a pit and post-hole yielding Early Neolithic pottery in Trenches 9 and 12, and a post-medieval ditch in Trench 9.
Within Trenches 79 and 80, at the south-eastern limits of the site, two small pits and a ditch terminus were uncovered. These features contained mid to dark brown grey sandy silt or silty clay fills making them distinctively different from the surrounding natural features. Although the pits contained no finds, one pit (63) was found to contain fragments of hazelnut. Ditch terminus 71 contained animal bone, Early Neolithic pottery and Early Neolithic worked flints. Early Neolithic pottery was also recovered from three trenches in the north-west corner, including from a possible post-hole.
Although much of the site was found to be devoid of archaeological remains, a small area of Early Neolithic activity has been uncovered along the south-east limit of the site.
Item Type:
Client Report
Uncontrolled Keywords:
Evaluation, evaluation, archaeological evaluation, Suffolk, suffolk, Exning, exning, Neolithic, neolithic, Medieval, medieval, Post-Medieval, post-medieval, Post Medieval, post medieval, Early Neolithic, early neolithic, Early Neolithic pottery, early neolithic pottery, Neolithic pottery, neolithic pottery, jetton, coin, buckle, ditch, ditches, pit, pits, hollow, hollows, periglacial feature, periglacial features, periglacial, pottery, pot, ceramic, sherd, CBM, cbm, Ceramic Building Material, ceramic building material, animal bone, animal bones, animal remains, bone, bones, Neolithic ditch, neolithic ditch, hazelnut, flint, flints, lithic, lithics, lithic implement, worked flint, natural feature, natural features, 2301, report 2301, Report 2301, OAE report 2301
Subjects:
Geographical Areas > English Counties > Suffolk
Period > UK Periods > Neolithic 4000 - 2200 BC > Early Neolithic 4000 - 3000 BC
Period > UK Periods > Medieval 1066 - 1540 AD
Period > UK Periods > Neolithic 4000 - 2200 BC
Period > UK Periods > Post Medieval 1540 - 1901 AD
Divisions:
Oxford Archaeology East
Depositing User:

Hamilton

Date Deposited:
01 May 2019 08:01
Last Modified:
01 May 2019 08:01
URI:
http://eprints.oxfordarchaeology.com/id/eprint/4770
Actions (login required)