Simmonds, Andrew and Wenban-Smith, Frances and Bates, Martin and Powell, Kelly and Sykes, Dan and Devaney, Rebecca and Stansbie, Daniel and Score, David and Biddulph, Edward and Blinkhorn, Paul and Booth, Paul and Boston, Ceridwen and Brown, Lisa and Challinor, Dana and Clough, Sharon and Cotter, John and Crowther, John and Druce, Denise and Howarth, Luke and Keys, Lynne and Lamdin-Whymark, Hugo and Macphail, Richard and Marquez-Grant, Nicholas and Mullin, David and Nicholson, Rebecca and Parfitt, Simon and Pelling, Ruth and Penkman, Kirsty and Poole, Cynthia and Schwenninger, Jean-Luc and Scott, Ian and Shaffrey, Ruth and Smith, Wendy and Stafford, Elizabeth and Strid, Lena and Verrill, Lucy and White, Tom and Whittaker, John E (2011) Excavations in North-West Kent, 2005-2007 One hundred thousand years of human activity in and around the Darent valley. Project Report. Oxford Archaeology South.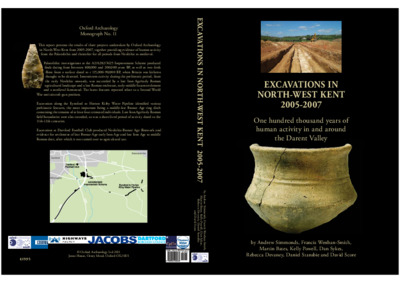 Preview
PDF




Excavations_In_Northwest_Kent.pdf


Download (50MB) | Preview
Abstract
This report presents the results of three projects
undertaken by Oxford Archaeology in North-West
Kent from 2005-2007; on the A2/A282/M25
Improvement Scheme immediately south-east of
Dartford, on part of the Eynsford to Horton Kirby
Pipeline a little further south-east, and at Dartford
Football Club. While different in character and scope,
all three projects are located close together either
within Dartford or just to the south and east, with a
maximum distance of c 6 km between them. Not
only, therefore, do they share a common geography
(the area of the lower Darent valley and territory to
the east of it), but, despite their multiperiod character
– particularly in the case of work on the A2/A282/
M25 Improvement Scheme – all have a focus on the
archaeology of the later prehistoric and Roman
periods. For these reasons, and to allow presentation
of the results of these pieces of work at reasonable
length, it has seemed appropriate to publish the
reports on these projects, originally conceived as
separate pieces of work, together, offering both
economies of scale and also the benefits of a wider
view than that presented by each individually. The
individual reports were themselves based on
proposals for publication arising from separate
programmes of post-excavation assessment. Most of
the original format of each report has been retained,
but the outlines of the archaeological background to
the area formerly contained in each report have been
combined (Chapter 1), and a short general discussion
(Chapter 16) has been added to the site-specific ones.
Actions (login required)