Tonks, David (2005) 33-35 Penny Street, Lancaster, Lancashire. Archaeological Watching Brief. [Client Report] (Unpublished)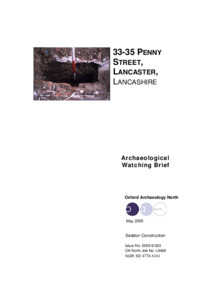 Preview
PDF




completereport.pdf


Download (4MB) | Preview
Abstract
A watching brief was undertaken by Oxford Archaeology North on 4th August 2004 at 33-35 Penny Street, Lancaster (centred on SD 4776 6161). Seddon Construction propose to redevelop the present building, which lies within an area of recognised archaeological potential. Following a request for a watching brief by Lancashire Council Archaeological Service, Oxford Archaeology North were commissioned to
undertake the watching brief on the digging of two exploratory test pits within the yard to the rear of the present building. The digging of further test pits within the street front area of the building was precluded by the discovery of a cellar beneath the entirety of that part of the building.
No archaeological horizons were encountered during the excavation of the two test pits. An assemblage of finds recovered from Test Pit 2 were generally undiagnostic,
possibly dated to the eighteenth to nineteenth century, and proved to be of little archaeological significance.
.
Actions (login required)