Collie, Tom (2019) Land at Fairfield Road, Framlingham. [Client Report] (Unpublished)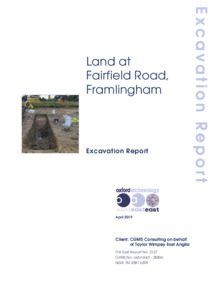 Preview
PDF




OAE_Report 2127_XSFFAF17_LR.pdf


Available under License Creative Commons Attribution Share Alike.
Download (3MB) | Preview
Abstract
Between the 10th of July and the 11th of August 2017, Oxford Archaeology East (OAE) carried out an archaeological excavation on land to the east of Fairfield Road, Framlingham in advance of residential housing. This programme of work was a response to discoveries made during an archaeological trial trenching programme delivered by OAE in May 2017.
The excavation took place on land immediately east of Fairfield Road on a field which sloped at a moderately steep gradient from east to west. Three excavation areas totalling 0.32 hectares were opened in the northern half of the field along with three 50m long trenches. Archaeological remains ranging in date from the middle Anglo-Saxon period through to the 19th century were identified. The finds assemblage from the excavation was large, indicating the area was used extensively. It reinforced the findings from the previous archaeological trench evaluation, where widespread dumps of domestic rubbish dating from the medieval and the post medieval period were recorded.
The most significant feature identified was a long north to south aligned ditch which fed into a pond located in the north-west corner of Area 1. To the south, in Area 3, this ditch turned west and ran beyond the limits of excavation. The ditch seems likely to have originally been laid out at some point during the 12th to 14th centuries, and both the ditch and the pond produced medieval and post medieval pottery along with shell, bone and other domestic debris. A series of smaller gullies running downhill from the east fed into this main ditch.
The majority of the archaeological features revealed on the site dated to the medieval and early post medieval periods and lay immediately west of this major north to south aligned ditch. In Area 1, these consisted of large pits packed with discarded domestic refuse, several of which had previously been revealed during the evaluation. Other pits contained large quantities of animal bone, dominated by cattle, and formed a group of backfilled inter-cutting features. The inter-cutting features toward the middle of Area 1 were most distinctive since they were surrounded, and in some cases sealed, by dumped layers of densely packed flint and chalk which appear to have been laid to consolidate the surface of certain areas of the site. There were very few smaller features to suggest structures or direct occupation of the site, rather, the dense pitting activities suggested activity related to animal husbandry and domestic refuse tipping, perhaps associated with a nearby area of settlement. Although documentary evidence suggests that a late/post medieval fair was held at Framlingham somewhere in the immediate vicinity, along Fairfield Road, there was no positive evidence for this from the excavated areas.
Item Type:
Client Report
Uncontrolled Keywords:
Suffolk, suffolk, Framlingham, framlingham, Excavation, excavation, archaeological excavation, Medieval, medieval, Post-Medieval, post-medieval, Post Medieval, post medieval, early medieval, Early Medieval, Anglo-Saxon, anglo-saxon, Medieval pottery, medieval pottery, Post-Medieval pottery, post-medieval pottery, Post Medieval pottery, post medieval pottery, early medieval pottery, Early Medieval pottery, Anglo-Saxon pottery, anglo-saxon pottery, pottery, pot, sherd, ceramic, vessel, animal bone, animal bones, animal remains, bone, fish bone, fish bones, pit, pits, ditch, ditches, cattle, domestic rubbish, nail, buckle, pond, 2127, report 2127, Report 2127, OAE report 2127
Subjects:
Geographical Areas > English Counties > Suffolk
Period > UK Periods > Early Medieval 410 - 1066 AD
Period > UK Periods > Medieval 1066 - 1540 AD
Period > UK Periods > Post Medieval 1540 - 1901 AD
Divisions:
Oxford Archaeology East
Depositing User:

Hamilton

Date Deposited:
17 May 2019 08:11
Last Modified:
17 May 2019 08:11
URI:
http://eprints.oxfordarchaeology.com/id/eprint/4848
Actions (login required)