Graham, Steven (2019) 36 New Road, Melbourn, Cambridgeshire. [Client Report] (Unpublished)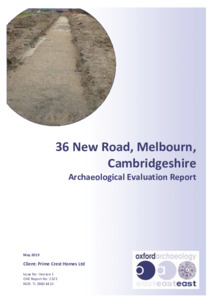 Preview
PDF




OAE_Report 2323_MELNRD19_LR.pdf


Available under License Creative Commons Attribution Share Alike.
Download (2MB) | Preview
Abstract
Between the 16th and 18th of April 2019, Oxford Archaeology East conducted a trial trench archaeological evaluation at the land adjacent to 36 New Road, Melbourn, Cambridgeshire (centred TL 3860 4410). The evaluation consisted of seven trenches, excavated within the proposed development area for residential dwellings together with associated open space, landscaping, highway and drainage infrastructure works.
A total of five natural periglacial hollows were identified across the site. These natural features produced a small number of worked flints, dating from the Mesolithic to the Neolithic periods, and a single sherd of Early Bronze Age Beaker pottery. The only other features of note were a ditch, that probably formed part of an early post-medieval field system, and a modern refuse pit.
Whilst the results of this investigation are of low significance, its findings make a further small contribution towards the understanding of the chalkland environment of New Road during the later prehistoric period.
Item Type:
Client Report
Uncontrolled Keywords:
Evaluation, evaluation, archaeological evaluation, Cambridgeshire, cambridgeshire, Melbourn, melbourn, hollow, hollows, natural feature, natural features, periglacial hollow, periglacial hollows, beaker pottery, 2323, report 2323, Report 2323, OAE report 2323
Subjects:
Geographical Areas > English Counties > Cambridgeshire
Period > UK Periods > Bronze Age 2500 - 700 BC
Period > UK Periods > Post Medieval 1540 - 1901 AD
Divisions:
Oxford Archaeology East
Depositing User:

Hamilton

Date Deposited:
21 May 2019 09:45
Last Modified:
21 May 2019 09:45
URI:
http://eprints.oxfordarchaeology.com/id/eprint/4849
Actions (login required)