Tonks, David (2006) St Saviour's CE Church, Stydd, Lancashire. Archaeological Watching Brief. Project Report. Oxford Archaeology North. (Unpublished)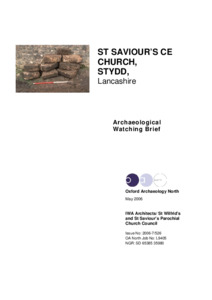 Preview
PDF




completereport.pdf


Download (17MB) | Preview
Abstract
Following a desk-based asessment and visual inspection report by Oxford Archaeology North in 2004 (OA North 2004), it was recommended that a watching brief be carried out during any groundworks associated with the restoration of St
Saviour's CE Church, Ribchester, Lancashire (NGR SD 65385 35980). Accordingly, a watching brief was undertaken by OA North between 16th and 24th February 2006 during the excavation of new and replacement land drains to the immediate exterior of the church.
A single feature was observed in Trench 4, which comprised an east/west aligned linear ditch that apparently underlay the structure of the church. Although there were no diagnostic finds within its fill, its position beneath the building dictates that it must pre-date the building of the present church, and is likely to be medieval in date or
possibly even Roman. A fairly substantial assemblage of pottery was recovered from unstratified deposits in
Trench 2. The dates ranged from the Roman and late-medieval periods through to the nineteenth century. This span was not continuous, but corroborates the known history of the site from the medieval period through to the nineteenth century, with the addition of evidence from the Roman period as well.
The works contributed to our understanding of the potential development of the church, but no recommendations are made for further archaeological intervention during the course of the present refurbishment.
Actions (login required)