Town, Matthew (2004) Proposed Football Field Gilsland, Northumberland. Archaeological Evaluation. Project Report. Oxford Archaeology North. (Unpublished)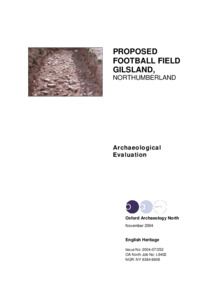 Preview
PDF




Complete Report.pdf


Download (6MB) | Preview
Abstract
In July 2004, an archaeological field evaluation took place on land to the south of Gilsland, Northumberland (centred on NY 6364 6608), across the line of the Vallum and the putative line of the Stanegate. The northern edge of the proposed development area lies within the World Heritage Site and Scheduled Monument of Hadrian's Wall, Vallum, section of the Stanegate Roman road and a Roman temporary camp between the B6318 road and the Poltress Burn in Wall miles 46 and 47 (SM 26071). The works were in response to a proposed planning application for the construction of a football field development on the site; English Heritage, in consultation with the Conservation Team of Northumberland County Council, required that a preliminary site inspection
and an archaeological evaluation be undertaken to investigate the survival of archaeological remains within the study area. The results will inform decisions on
approval of the planning application, as to mitigation of the archaeological remains either in situ or by record.
The site inspection demonstrated that no clearly visible evidence existed of the Vallum, the earthworks of which presumably have been ploughed out or destroyed in the past. A faint earthwork was discerned running along the inner north-west edge of the hill-slope; this earthwork appeared slightly terraced into the slope, and was broadly flat, sloping gently away to the north-west. The earthwork was identified as a probable ancient track, potentially the line of the Stanegate. The track was overlain at its southern end by a post-medieval track, which ran upslope towards Lawn Top
farmhouse. To the south and south-west of this, faint evidence of ridge-and-furrow was seen along the top of the hill; this was regular and straight, and presumably relates
to post-medieval steam ploughing. To the north-west of the farm, a series of earthworks, presumably either a hollow way or grubbed out field boundary, was identified.
Actions (login required)